The 2015 Long Island Food Conference
The 2015 Long Island Food Conference on Saturday, April 25, 2015 at Hofstra University will bring together hundreds of key stakeholders and members of our communities from across Long Island and the tri-state area to learn, discuss, and network about the importance of growing and promoting a sustainable local food system.
Our 2015 conference will focus on strengthening and increasing our local food system by:
1) identifying innovative small scale growing techniques,

2) providing inspiring and educational workshops dedicated to promoting healthy and sustainable food choices, and

3) discussing ground-breaking policies and programs that help incorporate sustainable and locally grown food into our communities.
The Long Island Food Coalition is the conference organizer and includes representatives from the following organizations: Hofstra University; North Shore Land Alliance; iEat Green, and; Long Island Group of the Sierra Club. The Long Island Food Coalition (formerly known as the Long Island Small Farm Initiative) sponsored the 2011 and 2012 Farm Summits at SUNY Old Westbury College and Hofstra University, respectively. These two conferences drew nearly 1,400 attendees and were very successful in bringing together a diversity of people dedicated to growing, promoting and consuming local food.

We expect nearly 1,000 participants to attend the 2015 conference, including but not limited to educators, farmers, advocates, policy regulators, parents, students, concerned citizens and non-profit organizations.

Learn more about sponsoring the conference, presenting a workshop, or volunteering.

- See more at: http://www.lifoodconference.com/About.html#foodcoalition
Vision Co-Chair Trudy Fitzsimmons Honored at "Strong, Smart and Savory 2015 Awards"
Girls Incorporated® of Long Island's mission is to inspire all girls to be strong, smart and bold. We provide school and community based programming that serves the unique needs of girls, ages 5-18, living in Nassau and Suffolk Counties. Through community partnerships, they help girls to achieve their full potential making their future brighter.
Girls Incorporated® of Long Island is dedicated to the advocacy of gender equity for all girls in all areas of their lives. Through participation in their programs, girls learn the skills to become leaders in their communities, leading to exponential change.
Join Girls Inc of Long Island for an evening of wine and tastings from a variety of caterers, restaurants and bakeries,while we acknowledge the achievements and contributions of individuals committed to empowering girls and their communities on Long Island
2015 EVENT HONOREES:
Karen Tenenbaum, Trudy Fitzsimmons and Ellen Labita
Appliance World in Huntington, NY
Tuesday, April 28, 2015 7-9pm
Get your tickets HERE!
For sponsorship opportunities, please contact Ryan Attard at ryan.attard@liu.edu
Social Justice Leadership Awards Dinner
The Ethical Humanist Society of Long Island is honoring Journalist Robert Keeler, Legislator Michelle Schimel, & Activist David Sprintzen for their lifelong dedication to the betterment of humankind. Each has made significant contributions in the areas of justice, human rights, and humanitarian causes. Their work reflects the values that Ethical Humanists cherish, including the fervent desire for peace among nations, the recognition of the dignity and worth of each individual, and the obligation of each of us to work for societal change.
Contact awardsdinner@ehsli.org or the Ethical Society office at 516-741-7304 for more information or to purchase tickets.
Third Smart Growth Saturday Downtown Tours on May 9th
Fresh off of last year's events, Vision Long Island invites you to join us in local downtowns for the third Smart Growth Saturday! Visit real places with projects underway and well managed Main Streets, showing the progress of downtown renewal across Long Island. We have chosen these communities for this event and we recognize that there are many other downtowns across Long Island doing great work and we look forward to future tours.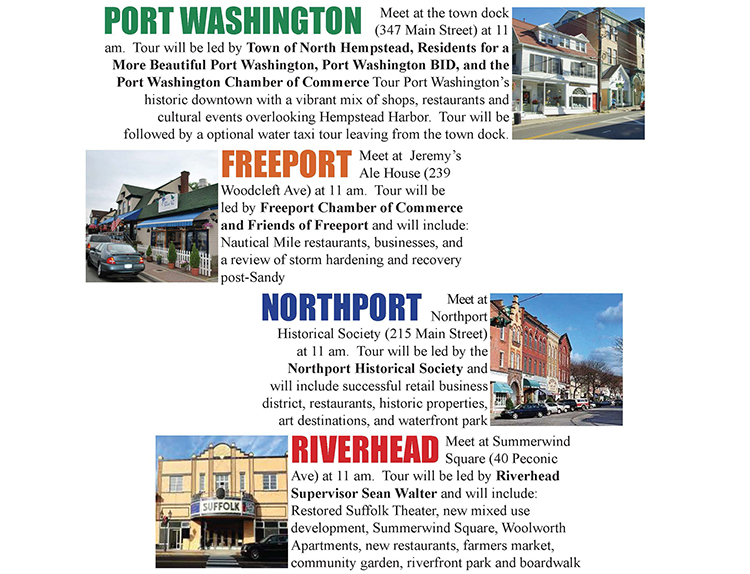 Tours will gather at 11 am for an initial presentation and will leave before 11:30. Tours are free, but RSVPs are required as space is limited. RSVP to 631-261-0242 or ea@visionlongisland.org Vision will share & invites those on tours to post photos on Twitter & Instagram #SmartGrowthSaturday
Celebrate LI's Women At 10th Annual Latina Hat Luncheon
Join the ladies of the Long Island Hispanic Chamber of Commerce as they honor women making a difference on the island.
Scheduled for May 15 at The Carltun in Eisenhower Park, the 10th annual Latina Hat Luncheon is an annual ceremony to commemorate exceptional business women, community advocates and inspirational role models.
The event also provides an opportunity for networking and business exposure.
Nassau County First Lady Linda Mangano will serve as mistress of ceremonies and PIX 11 News' Lisa Mateo will provide the keynote speech.
For more information or to attend, visit their website or call 516-333-0105. Tickets must be purchased no later than May 1st.
First Annual Suffolk County Multi-Cultural and Business Expo
New York State Assembly Member Phil Ramos and the Turkish Cultural Center of Long Island cordially invite you to participate in their Multicultural Business Expo which is designed to promote entrepreneurship, economic development, diversity, networking, sharing of business practices and innovation across all businesses and professional fields. This event founded by Dr. Suiv Lee and Prafulba Vaghela, should be of particular interest to businesses that have an interest in reaching Long Islands diverse ethnic markets. You have been selected to receive this special invitation because of your expertise and the important work your organization/Business has been engaged in.
The Multicultural Business Expo will be held on Friday, May 15, 2015 from 6:00 pm - 11:00 pm at Upsky Long Island Hotel, 110 Vanderbilt Motor Parkway, Brentwood/Hauppauge, New York 11717.Representatives from the Business interest sections of Embassies of several countries will be present to provide information as to how they can facilitate the acquisition and importation of Ethnic products. Representatives of Suffolk Counties Foreign Trade zone, USAID and several other Government agencies will be at hand to create awareness of the services they offer to local and foreign businesses.
There will be a cultural component to the Expo which will include ethnic performances and exposition of the work of local artist.
We hope your organization/Business will consider joining us for the Multicultural Business Expo. We invite you to reserve a booth at the Multicultural Business Expo to highlight your organization's outstanding contributions to the Long Island business community. We expect to have businesses and consumers from a variety of fields participate in the fair.
For more information or to RSVP and reserve a booth, please contact Suiv Lee, at slee@adelphi.edu, 516.301.8476, Sadri Altinok, at altinok@optonline.net, 631.891.7511 and Prafulba Vaghela, at yacs2008@gmail.com, 516.708.3928. Thank you very much for your consideration of this request.
2015 Arthur Kunz Memorial Scholarship Breakfast
On Friday, May 15, 2015, 8:00 AM – 10:30 AM , the APA Long Island Section will hold its annual Arthur Kunz Memorial Scholarship Breakfast at Molloy College's Suffolk Center at Republic Airport in Farmingdale (see www.molloy.edu/about-molloy/suffolk-center). A healthy breakfast buffet will be provided.

This year's Breakfast will focus on water quality and wastewater management planning; a topic that is so critical to the economic and environmental resiliency of Long Island. The Long Island Section is pleased to offer an opportunity for Long Islanders to hear from experts from another region on how they are facing wastewater management challenges and providing solutions for improved water quality. We are very pleased to announce that Kristy Senatori and Erin Perry will be joining us from the Cape Cod Commission to discuss best practices for planners, engineers and policy makers who are responsible for and/or involved in water quality improvement initiatives.

Water Quality Management: A Coastal New England Case Study will be moderated by Sarah Lansdale, Director of Planning, Suffolk County. Featured guest speakers include Kristy Senatori, Deputy Director, Cape Cod Commission Erin Perry, Special Projects Coordinator, Cape Cod Commission.

Each year, the best and brightest of Long Island's new and future professional planners compete for the Arthur Kunz Scholarship, which provides funds to its recipients for attendance at the annual American Planning Association National Conference. This year, the Arthur Kunz Memorial Scholarship has been awarded to three planners who were selected following a competitive process.honorees will be featured at the breakfast.

To register for this event and pay online, please visit our website at www.apalongisland.org. Or, send a check payable to "LI Section" to: Kathryn Eiseman, APA LI Section Treasurer, c/o Nelson, Pope & Voorhis, 572 Walt Whitman Road, Melville, NY 11747. (If paying by check, please also send an email confirmation to Kathy Eiseman at keiseman@nelsonpopevoorhis.com). All net proceeds fund future scholarships!!
Art Mart: Call for Artists
The Greater Westbury Council for the Arts is pleased to announce an open call for artists and artisan vendors for "Westbury Art Mart." This first annual arts market will be held Saturday, May 16, 2015 at the Piazza Ernesto Strada (at Post Avenue and Maple Avenue) in beautiful downtown Westbury from 10:00 am – 4:00 pm. This is an annual event which includes an arts market of local artists and artisans, live music and entertainment, gourmet food trucks, and more. This is an open call to all artists and artisans to exhibit and sell their work.
The Greater Westbury Council for the Arts invites professional artists to submit a registration form and photos of their work for consideration for Art Mart. All artwork must be original in concept, design and execution. Arts council members may reserve a 10′ x 10′ space for $20 ($30 for non-members.) Display setup, which begins at 8:00 AM the day of the event, and removal of artwork (no earlier than 4:00 PM), will be the responsibility of the artists. Pop-up tents, tables and chairs, electricity will not be provided. All sales transactions are between the artist and purchaser and the artists are responsible for sales-tax collection and reporting. There are no commissions taken by the GWCA on sales of arts and crafts. Rain date is Sunday, May 17, 20

Artists should apply using this form. For more information contact Maureen Baranov at maureen@westburyarts.org.
Unsung Heroes Nominations Due June 5th
The Long Island Coalition for the Homeless awards the Leonard I Saltzman Unsung Hero Award at its annual Keys for the Homeless Conference each year. Each year, two individuals are awarded this honor: One selected directly by the Keys Conference Planning Committee, and one from nominations made by the community at large. The purpose of the award is to recognize volunteers, direct care workers and/or other "boots on the ground" persons who go above and beyond to help homeless and at risk Long Islanders. Eligible applicants must be involved in volunteering or working with homeless and/or at risk persons in Nassau or Suffolk Counties.

The Unsung Hero Award will be presented at the "Keys for the Homeless" conference to be held on November 13, 2015 at Touro Law Center, Central Islip. Recipients must be present to receive the award.
Submissions must be e-mailed by June 5, 2015.
For more information, please see the attached nomination form.