15th Annual Long Island Smart Growth Awards Celebrates Progress, Leadership
Over 900 community, business and government leaders gather to celebrate Smart Growth individuals and projects through past 12 months

The 15th Annual LI Smart Growth Awards took place Friday, June 10th from 11:00am to 2:00pm at the Crest Hollow Country Club in Woodbury, honoring individuals and organizations advancing successful downtown initiatives. Of Long Island's 100 downtown business districts 60 have revitalization plans and 40 are actively moving projects forward. All told over 12,000 units of transit oriented development housing have been created over the last dozen years along with countless other downtown projects.
This year's event will highlight the efforts of leaders in government, private sector, and the community that exemplify Smart Growth principles in such areas as transit oriented development, mix of land uses, housing options, compact design revitalization, sense of place, walkability and citizen participation.
Over 900 of Long Island's civic, development, and government leaders are expected at the event. The Awards will feature opening welcome by past Award winner Nassau County Executive Ed Mangano. The keynote address and economic message will come from past Award winner NYS Comptroller Tom Dinapoli.
We received over 40 deserving nominations and the winners start with a Regional Leadership Award to Scott Rechler, Chairman and CEO or RXR Realty for his progress in and longstanding support of creating mixed use, downtown destinations on Long Island. The groundbreaking for Garvies Point in Glen Cove just occurred and project approvals in Huntington Station and Hempstead, in coordination puts an exclamation point on his leadership.
The project and organizational honorees have just been awarded and include Hon. Don Barbieri for Walkability in New Hyde Park; Alma Realty Corp & the Village of Valley Stream for a Mixed Use Project in Valley Stream; Conifer Realty & Town of Babylon for Housing Choices in Copiague; Patchogue Chamber of Commerce for "Alive after Five" in Patchogue; Town of Islip & Greenview Properties for a Pedestrian Plaza in Bay Shore; LI Building Trades Council & LI Federation of Labor for Job Development; Lalezarian & Village of Mineola for Mineola Village Green & One Third Ave, two redevelopment projects in Mineola; Beechwood Organization & Village of East Rockaway for Marina Pointe, a waterfront TOD in East Rockaway; Bartone/Terwilliger & Village of Farmingdale for Cornerstone, a TOD in Farmingdale, the Gitto Group & Village of Port Jefferson for the Hills, a TOD in uptown Port Jefferson; and East End Arts and the Westbury Arts Council for creating a Sense of Place by providing arts, music and culture in our downtowns.
Our keynote speaker was NYS Comptroller Tom DiNapoli. Comptroller DiNapoli works with local municipalities to keep them financially healthy while he has been a fiscal watchdog and steward of New York State funds. As a former Long Island Smart Growth Award winner and advocate for local communities up in Albany.

To open the program Senator Jack Martins highlighted how drastically the Smart Growth movement has grown over the past decade. "Ten, fifteen years ago, we didn't even have half of the people in this room, and yet, these concepts were resonating around Long Island, and because of the efforts of everyone in this room, and most specifically, because of the efforts of Vision Long Island, Smart Growth, transit-oriented development is actually taking hold." He specifically highlighted the success of Smart Growth developments in Mineola, Farmingdale, Glen Cove and Patchogue. The Senator move on to discuss projects that will be completed in the Senate in the near future, including the Small Business Savings Accounts and allowing local communities and counties to be able to hold back MTA payroll taxes and invest them in local transportation needs. The Senator specifically noted how nice it was to see labor being honored at the Awards, stating that, "as we go forward, and as we build, and as we build Smart Growth, it is important that we build it with our building trades."

Presiding Officer DuWayne Gregory spoke as well, about how the Smart Growth mission is an important part of protecting all that we love on suburban Long Island. "Fifteen years ago, the concept of Smart Growth was largely unknown. But with Vision Long Island staff, the board of directors, and all of their diligent efforts, we are all familiar, if not fully understanding of the importance of Smart Growth here on Long Island, which is going to protect what we love, and the future of Long Island and our communities." He then went on to discuss how important local government is in the progress of Smart Growth projects. Gregory concluded his speech with congratulations to all of this year's impressive honorees and announcement of his upcoming Economic Summit.

Nassau County Executive Ed Mangano made a point right at the start of his remarks to mention how many amazing visionaries, leaders in industry, and people who make it happen here on Long Island were present at the Awards, specifically congratulating Scott Rechler on the impressive impact his work has had on Nassau County. Mangano also recognized NYS Comptroller Tom DiNapoli as a great asset who always makes himself available to help the county, and find ways in which they can work together to save taxpayer dollars as well as support the innovation that is occurring here on the island. He also discussed the growth Nassau County has seen in recent years, commenting that new developments, such as the ones which were honored at the Awards, were an important part of growing the economy. "In Nassau County we have a number of transformative projects going on. We have the Coliseum, a 260 million dollar private-sector development, well underway, should open up some time next year. We receive 85 million dollars from NYS which is working to advance a bioelectronics center, we have Memorial Sloan-Kettering building 140-million-dollar cancer center that will engage in clinical research as well. Our visions are becoming a reality in terms of transformative projects, transit-oriented development, and attracting companies back to our island to make a brick and mortar investment here. The seeds that we have planted are becoming a reality for future generations."
Richard Kessel introduced Hon. Tom DiNapoli, the NYS Comptroller. He commented on how Tom is Long Island-bred and was the youngest person to be elected to the local school board and was a great Assemblyman from Great Neck for many years. "Tom is really the definition of a public servant," he said. "There is no one in our state government who works harder, or more for the people than Tom Dinapoli."
Comptroller DiNapoli began his keynote address by congratulating all of the honorees for their important work and Vision for serving as a tremendous community resource and a catalyst for smarter, more livable, revitalized communities across Long Island. "Long Island has a unique set of challenges," he said. "A limited land base, vulnerable supply of drinking water, limited transportation options, and significant development pressure. That's why the forward-thinking, Smart Growth initiatives being recognized today matter more here than in most other places. Smart Growth and sustainability go hand in hand. All around Long Island we see smart, sustainable approaches taking root and bearing fruit." DiNapoli stressed, however, that if we want to create sustainable communities we cannot just be happy with our past successes. "We need to continue to address the issues that are out there, we need to address the concerns about chemicals, toxic plumes, and septic discharges that still threaten our water. We need to continue to make progress in addressing problems such as restoring brownfields. We need to improve mass transit options, and we need to create more affordable housing, which continues to be a challenge across Long Island. Yes, we have come far. But we have more work to do to create the smart, sustainable communities we all want." DiNapoli also highlighted sustainable budgeting at the government level as a key underpinning to the success of Smart Growth communities. "It starts with transparency and accountability at all levels of government. When we empower our citizens with information, they can have thoughtful input on government decisions. We need to give the public the information they need in order to plan better for the future."
DiNapoli next discussed the Fiscal Stress Monitoring System which will identify municipalities and school districts that are struggling, it is also an important transparency tool to tell taxpayers about the financial status of their community. In order to fix many of New York's budgeting issues, DiNapoli put forward a Fiscal Reform Plan that focuses on four major areas: spending accountability, adequacy of reserves, appropriate use of debt, and the establishment of a long-term, state-wide, capital inventory and needs assessment. "If we want safe, modern roads and bridges, clean water, and walkable and bikeable communities accessible by transit, we must plan ahead and strategically target our capital resources." Referencing the 8.5 billion dollars the state has gotten through a string of financial settlements from companies who have violated banking and insurance laws, DiNapoli said, "Any additional settlement money should be used for smart, sustainable infrastructure improvements, which can serve as a catalyst for economic growth in communities all across our state." He also emphasized the need for Washington's help in improving our infrastructure. DiNapoli concluded his speech by thanking Vision for serving as a catalyst for positive change. "For the past two years, Vision Long Island has helped to advance more livable, economically sustainable, and environmentally responsible growth and there is no doubt that your efforts, along with the innovative efforts of todays honorees, will continue to lead to more progress. In 2016 Smart Growth is not a radical concept, it is a social, environmental, and economic imperative."

Thank You To All Of Our Event Sponsors:

Special Thanks To Our Filmmaker and Photographers:

Congratulations To This Year's Distinguished Honorees:
Transit Oriented Development: Marina Pointe
Beechwood Organization; Village of East Rockaway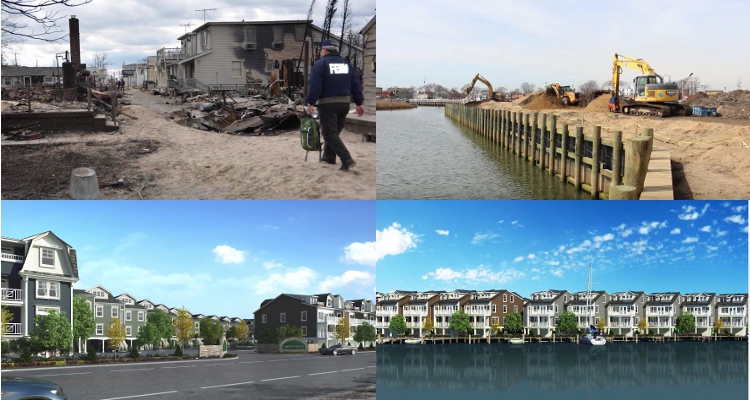 The long-awaited construction of the new Marina Pointe East Rockaway transit-oriented development project is expected to begin in a few months, replacing the now demolished Davison Boatyard marina complex and a blighted warehouse that were significantly damaged by Superstorm Sandy in October of 2012. The project will transform the outdated and storm-ravaged boatyard and marina into waterfront homes, benefitting local businesses while providing needed housing options for Long Islanders of all ages.
The lead developer on the project is the Beechwood Organization. For over 30 years, Beechwood has built more than 6,000 homes in 60 communities and has new sites in development across the New York metro area. Six four-story buildings will go up by Jericho-based developer Beechwood Organization, offering 84 suites and villas within walking distance to the Long Island Railroad's East Rockaway station. The units will be on the second floor up, allowing for parking on the ground level, which will also help make the development more resilient towards flooding, bringing the housing units above the flood plain. The site will also be graded to help with potential flooding issues, with the first floor of living space ten feet above the ground similarly to their resilient development of the Arverne by the Sea, in the Rockaways, Queens. The houses will also be wind and rain-resistant, following designs that Beechwood has used in other water-front developments. The 2.72-acre property had to overcome unique challenges to move forward as it was both in Town of Hempstead and Village of East Rockaway jurisdictions, with nods also needed from the Nassau County Planning Board. As a result, the Village of East Rockaway worked with the Beechwood Organization to expedite this project.
Owners will have the option towards having private boating slips, and be within walking distance of local shops, beaches, and restaurants, and the Best Market that will be opening soon. Traditional architectural elements including white columned porches and balconies help the development fit within its waterfront community environment and transform an industrial area into one that is more residential in character. The starting price for the units will be in the mid-$400,000 range, with owners having the benefit of a maintenance-free lifestyle. A new bulkhead, dock system, and modern infrastructure and drainage systems have also been built to handle flooding or another Superstorm Sandy.
The project's traffic study conducted by the developers concluded that the new development would not have a negative impact to the area, with the anticipation of residents utilizing the existing LIRR station and other mass-transit alternatives to fulfill a majority of their transportation needs. East Rockaway is one of the westernmost Villages in Nassau County, with a commute of about 40 minutes via the Long Island Rail Road to Penn Station, making the location attractive to those who would like to use mass-transit as their primary source of transportation to the workplace. The addition of full-time residents will support and help grow the retail base in the area in a smart way that does no overload the infrastructure.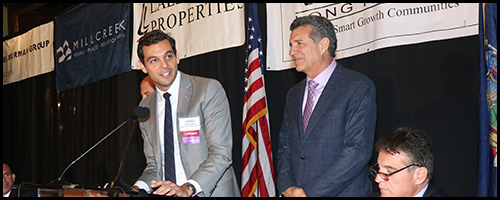 Steven Dubb, The Beechwood Organization: "This is a project that is very special to us, the area is very special to us, and we are very excited to come in there and help to turn East Rocakaway into a better place than it already is. We appreciate the recognition. We look forward to getting it done and doing many more."

Michael Dubb, The Beechwood Organization: "The only thing I can add to it is you've got a boat in your backyard, the train in your side yard, and a supermarket across the street. Did we nail it?"
Sense of Place: Bay Shore Pedestrian Plaza
Town of Islip; Greenview Properties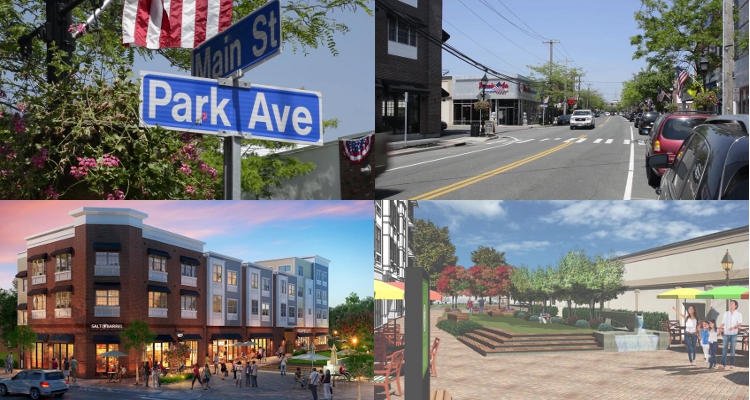 Downtown Bay Shore, through the collaborative efforts of Greenview Properties and the Town of Islip, has embraced the concept of Sense of Place with the construction of a pedestrian plaza in the heart of downtown Bay Shore's Main Street. Bay Shore has been undergoing a renaissance over the past twenty years, with efforts to develop a proper sense of place, walkability to parking and transit, housing, entertainment and workplaces, with the pedestrian plaza being one of the latest examples of the transition.
The long-blighted northwest corner of Main Street and Park Avenue in Bay Shore has undergone a much needed facelift, with studio, one-, and two-bedroom market rate apartments being built at a long-abandoned corner, within walking distance of transit, restaurants, downtown shops, medical offices and theaters. The new complex, Village Place, was adjacent to an underutilized and redundant stretch of Park Avenue north of Main Street, which connected to a parking lot behind Main Street.
The large parking lot, which serves the nearby medical complex and provides off-street parking for Main Street businesses, is easily accessible through Smith Avenue to the west, and heavily travelled Mechanicsville to the north. In an effort to create a more walkable environment on Main Street, which was needed even before the housing units were developed, the decision was made to remove at half-block section of Park Avenue, and create a downtown plaza in its place.
Compounded with the mixed-use retail and residential complex is the pedestrian plaza, where Park Avenue once sat, connecting housing, restaurants, medical offices, shops and entertainment venues such as the YMCA Boulton Center for the Performing Arts. Existing entrances to businesses along Park Avenue were not hindered with the transformation, as the entrances to the large medical complex to the north and the restaurant directly east of the plaza were not directly on Park Avenue, and now are more walkable from the off-street parking behind Main Street. Further up the street other new housing developments are being produced to situate residents close to the LIRR station.
The well-landscaped plaza is part of a larger effort to connect housing, venues, workplaces, and transit (including the nearby ferry service to Fire Island) in a walkable fashion. A unique sense of place is created within one thousand feet as a result of all of these different businesses operating within such close proximity. Support for this project form the community has been ample, with groups working with businesses and local homeowners to speak as one voice and build this great Plaza at the heart of Bay Shore. Councilman Steve Flotteron has stated, "When you have public spaces it brings people together and makes them feel like they're part of something special. This Plaza is going to bring people together and its going to become part of the center of this community."
The Town of Islip strongly advocates a walkable downtown for the increased safety of residents and visitors, the positive health benefits associated with walkable neighborhoods, reduced traffic congestion on their Main Streets, and increased foot-traffic to small businesses and eateries. Not only will residents of Village Place be able to safely walk their downtown, but will be connected to a larger historic walking trail, with their front yard being one of the focal points.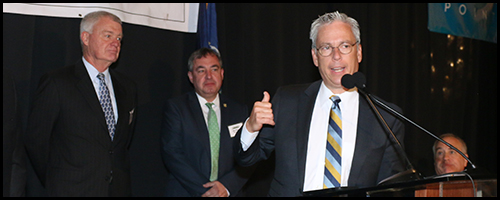 Councilman Stever Flotteron, Town of Islip: "Bay Shore is on the move, and we have many other projects going on throughout the town from our IDA and planning department."
Walkability: Trustee Don Barbieri
Village of New Hyde Park
Don Barbieri, Village Trustee of New Hyde Park, has been working for many years to improve Walkability within the Village.

Diagnosed with multiple sclerosis over 20 years ago, he began his career in politics doing advocacy work for the MS Society and his first initiative as trustee was the installation of handicap ramps at Jericho Turnpike. Jericho Turnpike which serves as the Village's "Main Street" has become, over the years, a high speed road which was dangerous and uninviting for pedestrians and shoppers. He has been the point person for "Operation Main Street" which seeks to upgrade the business district along Jericho Turnpike by making the thoroughfare more walkable while also making aesthetic improvements to the community. He worked with Rep. Carolyn McCarthy to secure a $1.25 million federal grant for the Village and New York State Department of Transportation to make the improvements.

Don, a longtime resident of New Hyde Park, has worked vigorously to advocate for this traffic calming project. He has worked with various levels of government to bring awareness to the issue and has even conducted a walking tour with AARP. His goal is to return the main street downtown feel that Jericho Turnpike once had, rather than the high-speed throughway that discourages passersbys to stop and shop within the area.

Improvements to Jericho turnpike included raised, planted medians down the center of the road and striping of parking lanes to visually narrow the road. Other improvements also include bulb outs on the side streets where they intersect Jericho to slow down cars making turns and shorten crossing distances. With the installation of countdown timers at crosswalks, it has now made it easier for pedestrians to know how much time they have to cross and benches will provide places to rest for people shopping. These improvements help to change the perception of Jericho Turnpike from a high speed highway to more of a Main Street environment where drivers expect to see pedestrians and behave more appropriately. After 12 years, the DOT agreed to all of the plans and change was implemented. Barbieri says of the project, "It will take you five more minutes to pass through Jericho Turnpike but its safer, pedestrians can cross the street easier and in that regard I am quite proud."

Phase II of Jericho Turnpike traffic calming and streetscape improvements, which includes surrounding streets is also underway. The Village Board authorized the firm of Dvirka and Bartilucci to design the additional roads. On May 17, 2016 the Village Board awarded the contract to Pratt Brothers with work scheduled to begin this month.

Over the years, Barbieri has worked tirelessly in the Village to secure a grant restore the William Gill theater in Village Hall, establish a New Hyde Park Museum and make improvements to various neighborhood parks.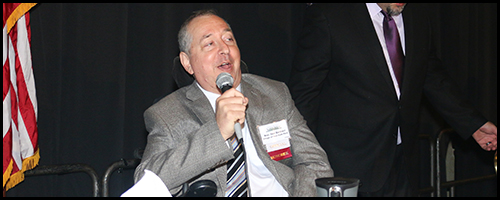 Hon. Don Barbieri, Village of New Hyde Park: "I want to say thank you to the group from Vision Long Island. I want to take a minute to say to all of you that we really enjoyed the support of all of the governments that represent us, and help from the county, from the Town of North Hempstead, from the State of New York. I learned how difficult it is to spend grant money. But 14 years later we were able to get the project done. Jericho Turnpike is the main street in the Village of New Hyde Park and we were trying to do our best to make it more walkable and pedestrian-friendly. I hope we have accomplished some of that."
Sense of Place: East End Arts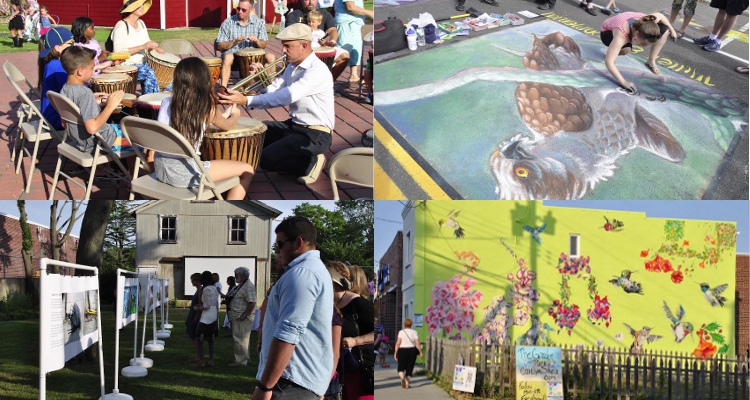 One of this year's Sense of Place awards goes to East End Arts for their ability to create community-specific events and unite communities.
East End Arts is a not-for-profit arts organization serving the five East End towns of Long Island since 1972. Through education, support, advocacy, and inspiration, the organization works to build and enrich individual communities. East End Arts has continuously shown their commitment to cultural development and has contributed to both economic growth and revitalization efforts in local communities. East End Arts has also supported the expansion of arts groups in surrounding areas by helping found organizations such as The Greater Westbury Council for the Arts.
A sense of place results from a combination of characteristics that cause a place to have a strong identity that is simultaneously special and unique. When a community has a strong sense of place, its residents feel increasingly connected to their town and are actively invested in both preserving and improving it. East End Arts works to create a sense of place for all residents of a town by offering involvement opportunities for all segments of the population.
Events such as their Street-Painting Festival, the most recent of which was held on May 29th and was the 20th time the festival was organized, attract hundreds of community members. During this festival, businesses sponsor the squares painted by the artists, and community members can buy their own squares to color with chalk. Pat Snyder, the executive director of East End Arts notes that events such as this are meant to support the arts and raise awareness about the power of arts to raise up the community. "The street painting festival is named the Community Mosaic because it brings together the entire community. We have a diverse audience. It's a wonderful, joyful day where everyone celebrates not only the community, but art."
Other events hosted by East End Arts include Winterfest Live on the Vine, an eight-year-old, award winning program that has driven the economy in the surrounding area as well as downtown. The annual Arts Mean Business program was developed to show how businesses and artists can work together. Another program, titled JumpstART, is a six-month development series for artists who need support in the aspects of business. The artists have to develop a proposal and present how hey could work together with a business and it culminates in a downtown wide event that serves the purpose of giving the the opportunity to see the value of the art and to put in in front of the community.
It is not only local residents that benefit from such activities; the downtown areas in which the events are held benefit from the increased commercial activity associated with the large number of people attracted to the events as well. The wide array of events, festivals, and activities organized by East End Arts is tremendously important in providing individual communities with their own unique characteristics that encourage interest in and tourism to the area.
The East End Arts also runs a school which offers instruction in music, visual art, and theater and works to broaden the traditional educational experience of students in the East End. The school has programs for people of all ages, which affords those who have completed their years of formal education the opportunity to build upon their official schooling.
Pat Snyder has also said, "The arts are like the air that we breathe, they are an important piece of what would life look like if there was no music, and there wasn't visual art and there wasn't dance and there wasn't song. It really affects people on an individual basis, but brings these diverse communities together. People become one. When the arts are strong in a community, you can be sure the community is strong." Such relentless dedication to the support of art as a means of enriching local communities has resulted in increasingly united towns who continuously benefit from the East End Arts core values of leadership, collaboration, access, and education. The sense of place brought about by the participation of a wide variety of community members in events run by East End Arts has allowed each of the eastern towns to develop unique characters supported by continued economic and cultural development.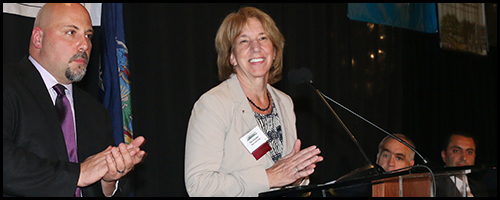 Pat Snyder, East End Arts: "The arts are about the quality of life, and I am proud to say that East End Arts is actively engaged in the job of enhancing lives from early childhood right to the end of life. Every day, we see the arts bring purpose, strength and changed lives. The arts are also about economics, and there is always a positive effect when the arts are introduced into a community. The communities on Long Island that are thriving are the ones that have embraced the arts. Creative placemaking adds to vibrancy, livability and the overall atmosphere of a community."
Sense of Place: Westbury Arts Council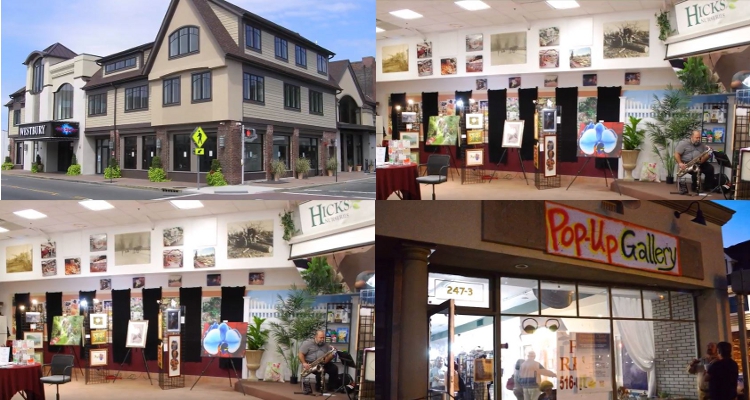 One of this year's honorees for the Sense of Place awards is The Greater Westbury Council for the Arts for their commitment to attracting, developing, and promoting art and culture throughout their community.
The Greater Westbury Council for the Arts is a not-for-profit arts organization that hosts a wide range of events throughout the year in order to cater to the desires of local residents. Activities focus on everything from visual arts and theater to dance and music in an attempt to accommodate the many different people living in the area. Peter Cavallaro, Mayor of the Village of Westbury, has stated, "Over the last ten to twelve years, we really made a concentrated effort to revitalize our downtown. We said we're going to revitalize our arts council this year." The programs run by the Westbury Arts Council include concert series, live theater, live dance, film screening, and visual arts.
Events such as the "Art Mart" represent collaborations between the Arts Council and Village in order to improve the quality of life of local residents by offering unique and fun events. They also run pop-up art galleries which they host in various locations, including empty storefronts along Post Avenue. The events also help people see their local community as entertaining and welcoming, characteristics that enable residents to connect with their towns and with each other. The sense of place that is created by the regular events held by the Arts Council are key to strengthening the local community and encouraging residents feel that their town has value. These events also help to foster a sense of community as residents come together in the Village's public areas to meet each other and local artists.
Providing equal opportunities for all residents is an important part of the Greater Westbury Council for the Arts' mission. The Arts Council sees diversity as a value and works to embrace it in order to help art and artists grow. Some events are specifically customized for certain portions of the population in order to foster links between the specific group and the broader community. For example, the Hispanic Heritage Celebration scheduled for September will allow people to celebrate their culture with the local community.
Through the use of collaborative partners to provide venues and resources for diverse programs, the Arts Council advocates for a wide range of artistic expression. The Arts Council also provides a number of volunteer opportunities for locals looking to gain experience and forge connections within their community. Thus far, the response from the community has been great as more and more people learn that there are exciting things happening in the Piazza on Friday in Westbury. The Mayor has called the Westbury Arts Council the most spontaneously successful initiative that they have undertaken in the past thirty years due to its ability to bring people together and make their differences disappear.
The continued commitment on the part of the Greater Westbury Council of the Arts to create a pleasant and inviting community for their local residents has directly led to the strong sense of place the community is developing. Consequent increases in economic and cultural development in the area continue to create a unique and lively community, which then further strengthens the bond felt between residents and their community. The Greater Westbury Council of the Arts has been a key player in differentiating Westbury from surrounding municipalities and creating for it a unique identity.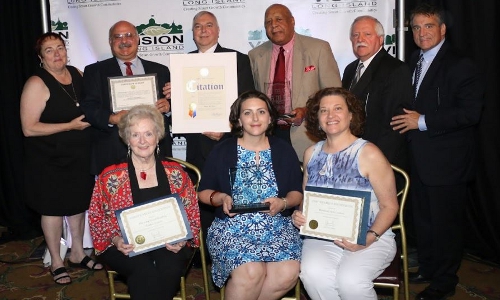 Christine Shelley, The Greater Westbury Council for the Arts: "When you talk about the spontaneous energy, its fun to think that we don't have any physical location, but what we do have is a lot of very dedicated board members who create that sense of place"

Tom Sobczak, Jr., The Greater Westbury Council for the Arts: "I just want to thank Mayor Cavallaro, the Village board and the superlative Village staff who, with their support and guidance, have made us grow as quickly and innovatively as we are today."
Strengthening Existing Communities: Opportunities Long Island
Long Island Building Trades Council; Long Island Federation of Labor
This year's Strengthening Existing Communities Award goes to the Long Island Building Trades Council and the Long Island Federation of Labor for Opportunities Long Island. Opportunities Long Island is a nonprofit outreach and training program which provides access to high-quality careers in the unionized construction industry to qualified individuals in low-income communities.
Through partnerships with the Nassau-Suffolk Building and Construction Trades Council, Suffolk County Department of Labor, the United Way of Long Island, Hempstead Works and community leaders, they target communities in Nassau and Suffolk County with high unemployment rates and large minority populations. Trainees receive job readiness classes, gain knowledge about the crafts and learn the skills needed to be competitive when applying for a union apprenticeship. Opportunities Long Island has been granted direct entry and is an approved apprenticeship preparation program through the New York State Department of Labor Apprenticeship and Training Council.
The Opportunities Long Island program is designed to provide leadership skills and training for local residents in preparation for upcoming union jobs in their area. Both the Long Island Building Trades Council and the Long Island Federation of Labor had have made it their focus to bring high quality jobs to Long Island and developing the skilled workforce to fill those jobs. Previously, many of the people taking these construction jobs had little or no training, and were out of work as soon as one job was completed. Now, these graduates get a career. Erica Rechner, the Director of Opportunities Long Island, has said that, "It really excites me to see a young individual that's eager to learn and is motivated and can come into this program and access the building trades apprenticeships and be able to start their career and support their families and be a productive member of their community."
Opportunities Long Island utilizes the Building Trades Multi-Craft Core Curriculum for the training foundation. It includes 240 hours of classroom and hands-on training stressing the importance of job readiness. Lessons include math and measurement, blueprint reading and introduction to tools and tool usage. It combines classroom and on-site learning, with teachings from industry professionals who can share their personal experiences. Engaging with these professionals through these personal interactions are key factors which can motivate the trainees to succeed as emphasize the importance of "putting your best foot forward." At the close of the program leaders are brought in from different construction locals to reinforce best practices as the students prepare themselves for an interview to enter into the unionized construction industry. They have successfully completed students with the ornamental iron workers, the steamfitters, the electricians, the carpenters, the painters, the glazers, and the metal polishers.
Femi Ayodele, a former Opportunities Long Island student, said, "The program was amazing and weeks of vigorous 10 hour days allowed us to see hands-on what the union is really about." While it is a fairly new program, it has already laid its footprints in various communities throughout Long Island. For many communities who are looking for economic growth and revitalization have the capacity through this program to increase the number of skilled jobs brought into their community and number of residents that qualify for these jobs, but also to keep those dollars being spent in their community.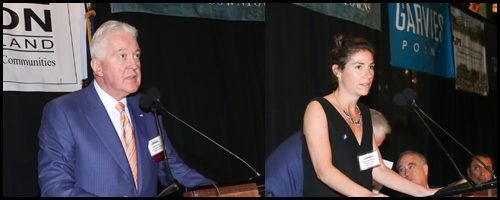 Dick O'Kane, The Long Island Federation of Labor: "This is a program that has been long overdue and we are pleased to be able to produce it. Over two years we have had tremendous success. We have graduated close to thirty people in a two-year time frame which is short when you are putting together a program. We offer people not just a job, but every opportunity to go anywhere in New York, and the opportunity to get a career."

Erica Rechner, Opportunities Long Island: "Economic development is a key factor when it comes to strengthening existing communities on Long Island. Opportunities Long Island is proud to do this work that helps strengthen our neighborhoods. Since inception, Opportunities Long Island has been able to connect individuals from traditionally underserved communities to apprenticeship opportunities on Long Island. When we connect our graduates to labor union apprenticeship opportunities, they are not given a job, but lifelong careers, helping young individuals support their families and give back to their communities."
Compact Building Design: Mineola Village Green & One Third Ave
Lalezarian Properties; Village of Mineola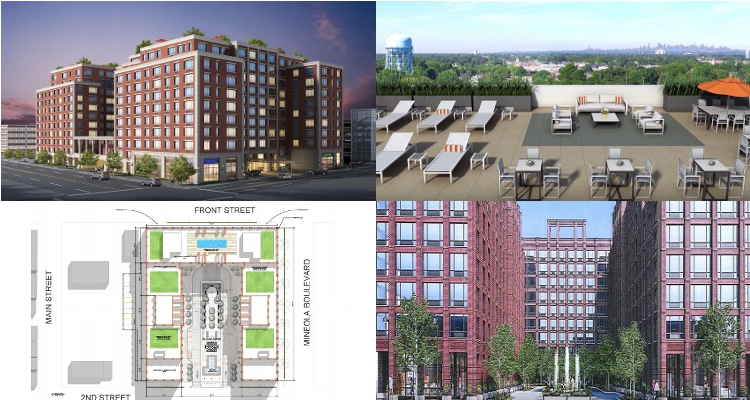 This year's honorees for the Compact Building Design Award are Lalezarian Developers and the Village of Mineola for the Mineola Village Green and One Third Avenue.
The two projects, which will create a combined total of 581 apartments, are both being developed in downtown Mineola by Lalezarian Developers, a property management and development company that leases both residential and commercial buildings. The complexes, which are notable due to their height and relatively small use of ground space, are helping transform downtown Mineola into a dense, walkable area. Previously, the land being used for the development had only unused office space. New buildings such as these provide a means for communities like Mineola to incorporate compact building design as opposed to more conventional, land consumptive development.
Conveniently located in downtown Mineola just one block from the Mineola Long Island Railroad station and a 36 minute train ride from Midtown Manhattan, One Third Avenue will have 315 one-, two-, and three- bedroom apartments on ten residential floors above a double height lobby. Residents of the apartment complex, primarily young professionals and empty-nesters, will have access to a parking garage along with several other amenities, such as a fitness center, pool and sauna, and personal outdoor terraces. The apartment complex is just steps away from a wide array of restaurants, shops and entertainment venues.
Mineola's Village Board later approved the Mineola Village Green project in May as a part of the Master Plan adopted in 2004 that aims to revitalize the downtown area. This complex is a 77 million dollar mixed-use development that will comprise 26 one- and two-bedroom luxury units, underground parking, and 14,000 square feet of retail space on the ground floor. The Village Green's plaza area, with its outdoor seating and fountains, will be open to the public. This complex is also across the street from the Mineola LIRR station, as well as a NICE bus hub. A portion of the units in this building will be leased at a reduced rate following the Village of Mineola's recent adoption of a local law that sets aside 10 percent of housing units built for reduced rental prices.
A number of tax incentives, including mortgage recording tax exemptions and sales tax exemptions, were approved by the Nassau County Industrial Development Agency for the new transit-oriented apartment complex. The Village Green is expected to have a total economic impact of nearly $132 million, including more than $5.8 million in tax revenue for the village and county. The local school district also stands to benefit from the additional tax revenue Village Green's tenants will bring. The building will create 18 permanent, full-time jobs and 180 construction jobs over its two-year building period. Additionally, Lalezarian has committed to sourcing 90 percent of its building labor from Long Island.
Kevin Lalezarian of Lalezarian Properties notes that "in order to have a long-lasting and more complete approach, we need to have strong leadership to allow for other projects like this to be built strategically in the right place. Rather than having a brain drain, you have a brain gain. This is very important for Long Island's future so companies will like to locate here because there is an educated, young, dynamic residence base." Compact buildings such as Mineola Village Green and One Third Avenue support both the preservation of open space, by redeveloping land and reducing development pressure on undeveloped land, as well as the efficient use of land and resources. Vertical building also supports wider transportation choices and reduces the cost of administering services such as water and electricity. Downtown Mineola is sure to benefit from these compact buildings that simultaneously afford increased density as well as increased amenities that make the area more livable.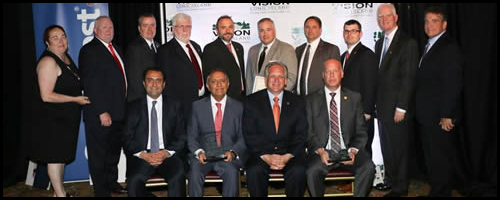 Kevin Lalezarian, Lalezarian Properties: "This recognition isn't for us and our team at our office, its also for our architects and planners and the collaboration with Nassau County and the Village of Mineola. I'd especially like to thank Mayor Strauss and the rest of the trustees for having the vision to create this."

Mayor Scott Strauss, Village of Mineola: "These awards are deserved and certainly well-earned. We are all well-aware of the challenges that these projects have faced during their early stages. I would also like to thank the Lalezarian family for seeing what we already knew: Mineola is a community worth investing in. The Lalezaian community has designed two beautiful buildings that will be cornerstones behind the revitalization of our downtown. The Village of Mineola is experiencing growth, Smart Growth, at a pace we haven't seen since the early years of our community. In the past several years we have approved five residential projects in our downtown, an investment of approximately 400 million dollars of private funds. These projects will help revitalize not only our downtown, but our entire village. Don't be afraid to change, but please, don't change for the sake of changing."
Transit Oriented Development: Cornerstone
Bartone & Terwilliger; Village of Farmingdale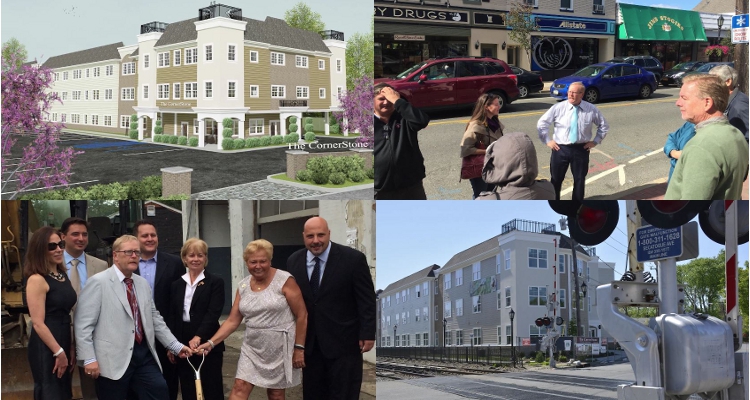 Farmingdale Village is host to another transit-oriented development project as it continues to grow, generating excitement around The Cornerstone just steps away from the Long Island Railroad Farmingdale station. Breaking ground this past September, the 42-unit rental community is currently leasing, with four units designated as affordable housing.
After breaking ground this past September, Terwilliger & Bartone Properties recently opened their $8 million complex located at 100 Secatogue Avenue having demolished an industrial building on site. The Cornerstone allows residents to simply walk across the street to the busy LIRR Farmingdale station to commute to and from work. Not only is the development in close proximity to the Farmingdale LIRR station, residents are able to enjoy the ability to walk to numerous shops, restaurants, and places of worship right on Main Street, giving the opportunity to have a taste of downtown easily accessible. "We have provided plenty of parking to our residents but we are finding that we don't even need as much as we provided, a lot of our residents truly do use mass transit, so the theories are proving out and that is what we should be doing a lot more of here on Long Island," says Anthony Bartone of Bartone Properties.
The buildings designed by Ehasz Giacalone Architects, a local Farmingdale architecture firm, incorporates clean energy including a supplemental solar energy system. Tenants of this new property enjoy the rooftop patio with a fire pit and barbeque, a club room and a fitness center. If the stone counters, stainless steel appliances and high ceilings weren't enough to draw people to rent there, the fact that they can wait in the residence lobby until their train pulls up to the station may help sway some on the fence about making The Cornerstone their new home. Ralph Eckstrand, Mayor of the Village of Farmingale, says, "the Cornerstone is going to be great in the fact that it's the first project that's come by the village board to be almost all studio apartments and junior bedrooms, catering of course, to everything I've been preaching, which is transit-oriented development and downtown walkability".
Long Island Housing Partnership held a lottery last month for the four designated workforce housing units, and leasing started on the property last month, with tenants expected to move in to the market-rate studio- and one-bedroom units within the next few weeks.
The project, with assistance from various tax incentives from the Nassau County Industrial Development Agency, created about 20 construction jobs, full-time employment, and a projected $21.4 million to Nassau's economy by repurposing an underutilized industrial property that was at the site.
This is not the first for the success for this company in the village of Farmingdale. Terwilliger & Bartone Properties joined village officials and residents in the grand opening of Starbucks pas part of one of their latest developments on Main Street. The coffee shop is the first of seven commercial spaces to open below The Jefferson at Farmingdale Plaza, a two-building, 154-unit apartment complex that is across the railroad tracks from The Cornerstone, a 42-unit apartment building that is slated to open this month. The Jefferson at Farmingdale, a former Smart Growth Award winning project, features 196 apartments paired with retail. The final units of The Jefferson were completed in December.
To the credit of these projects, a major transformation has been seen in the Village of Farmingdale along its main street. Attracting new residents and adding to the appeal of Main Street has helped to fill many of its vacant storefronts. Businesses like Starbucks and of small shops are looking to the Village of Farmingdale in a renewed sense by seeing this progress move forward and the type of true transit oriented development that will keep their businesses booming. Fran Terwilliger, one of the development partners, said, "There was a real undersupply of rental housing on Long Island. We wanted to help make it affordable to keep young people here. What we found really wonderful is that not only providing housing but being the impetus for our gentrification to the towns through downtowns to make them come back alive."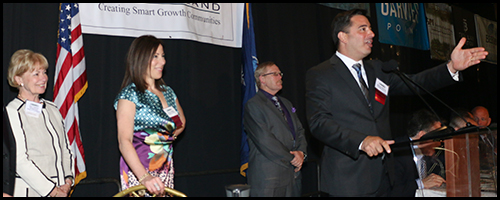 Anthony Bartone, Terwilliger and Bartone Properties: "I am blessed to be part of a new joint venture that we formed with Ron and Fran Terwilliger. It's really an honor to be a part of the organization. These projects don't happen without leadership and we are very blessed to have leadership at the county level, and more specifically in the Village of Farmingdale."

Mayor Ralph Eckstrand, Village of Farmingdale: "We are a little, small village, but we are closing in on 150 million dollars of development coming into our village. It would not have happened without the IDA. They really have helped our downtown immensely. Once we revitalize, people come, people move in, and they spend in our downtowns."
Housing Choices: The Copiague Commons
Conifer Realty; Town of Babylon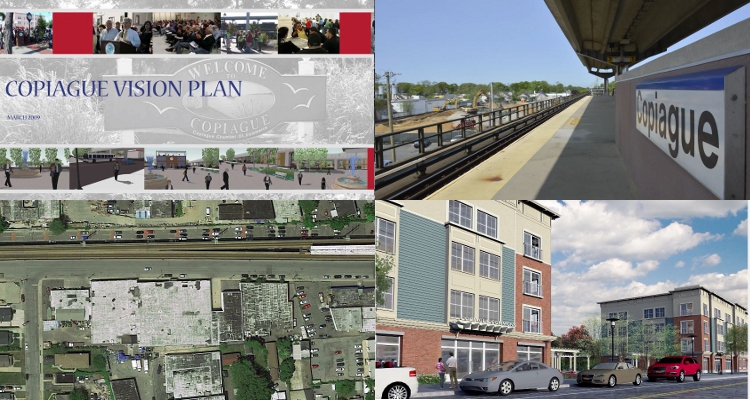 This year's Housing Choices award goes to Conifer Realty and the Town of Babylon for the Copiague Commons affordable housing complex, which will replace an old, one story warehouse just steps away from the Long Island Railroad.
The Copiague Vision plan, started in 2008 to gather input from the community on what they wanted ot see in the area around them, has laid the ground work for the Smart Growth initiatives that have come since. Former Smart Growth Award winner Conifer Realty LLC is a real estate development and management company with experience in both residential and business communities. After the land for the Copiague Commons was rezoned to permit greater density by the Town of Babylon, brought in by the Community Development Corporation of Long Island, Conifer Realty began developing the affordable housing project that is hoped to inspire other private investment in downtown Copiague. The $33.5 million project, which will manifest itself in the form of a 90-unit affordable rental apartment complex, is the first of its kind to encourage larger scale multifamily building in the hamlet's downtown, which is currently dominated by single-story industrial and commercial buildings.
The apartments, which comprise a total of 56 one-bedroom units and 34 two-bedroom units in two four-story, energy-efficient buildings, will start being leased as early as January 2017, with occupancy beginning later that summer. This is one of the first projects that takes advantage of the HCR's middle income program, which allows a mixture of incomes among the residents. The rent for the one and two bedroom units will be between $1,193 and $1,850, and tenants will be restricted to those who earn between 60 and 100 percent of the area median income, which is $69,008.
The significant shortage of affordable housing on Long Island has contributed to large numbers of young professionals leaving the area, resulting in an island-wide "brain drain". Long Island has roughly half the percentage of rentals as similar suburbs in northern New Jersey and southwestern Connecticut. Copiague Commons is a step forward in the process of creating a wider range of housing choices that have the potential to retain students and families.
Conveniently located on Railroad Avenue directly across from the LIRR, the development affords its residents the ability to be less car dependent than other parts of Long Island, which is attractive to many young professionals. Once the Commons are rented, the new residents will help to revive the downtown area providing additional foot traffic and potential customers to downtown businesses. Sharon Fattoruso, a long-term Copiague resident and the president of the Copiague Chamber of Commerce, contends that new young people in the area, attracted by the quick access to mass transit, can in turn draw new businesses, restaurants, and coffee shops to the hamlet's downtown. County Executive Steve Bellone, who began pushing for mixed-use development of Copiague's downtown years ago when he was Babylon Town Supervisor, fully supports the housing development as well, noting that projects such as this will launch Copiague into its place as a local innovation hub linked by rapid rail and bus to other hubs that also contain dense housing, recreation and employment opportunities.
The location along Railroad Avenue will help to improve the walkability along the road leading to the train station. What was a blank, almost hostile façade along the road, will now be an active, attractive frontage with public spaces, interesting architecture and landscaping with most of the required parking behind the buildings. The two buildings straddle a green plaza that connects from the street to the parking behind and provides space for residents and visitors to spend time outdoors. Jonathan Keyes from the Director's Office of Downtown Revitalization in the Town of Babylon states, "This project Conifer and CDC Long Island project will really be that first project that is going to kick start revitalization, put people on the street, put them within walking distance of the train station and the downtown shopping area, and we're very excited about the potential to catalyze further development."
Copiague Commons, whose groundbreaking was celebrated on May 5, 2016, will likely serve as a model for future development in the area. It is the first project started under the rezoning, but town officials have said that there is a lot of interest from Copiague property owners who could partner with developers or engage in smaller projects themselves. The start of construction on this project represents a shift in mentality from viewing Copiague as an economically stagnated area to a growing one with increasing vibrancy.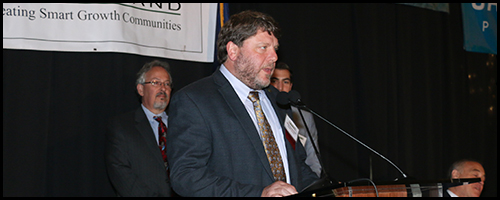 Allen Handelman, Conifer Realty: "I'd like to thank Vision Long Island for laying the groundwork for this type of development. Copiague Commons is a story of partnerships that share the vision of Vision Long Island, notably the Town of Babylon, Town of Babylon IDA, Suffolk County, New York State Homes and Community Renewal. This serves as a pilot program for middle income housing and workforce housing. We could not have done this without working with the community, Copiague Cares, Copiague Chamber of Commerce, and most significantly, our partnership with CDC of Long Island. While there are communities that say they like this type of development, but not in my backyard, uniquely the Town of Babylon and the Copiague community said they liked Copiague Commons and they wanted it in their front yard."
Citizen Participation: Alive After Five
Patchogue Chamber of Commerce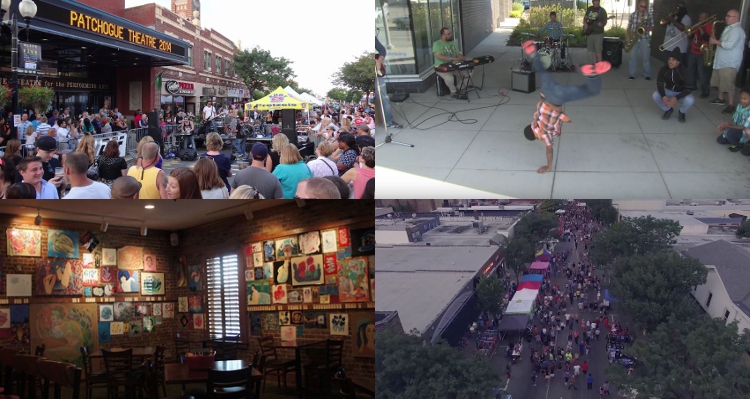 The Greater Patchogue Chamber of Commerce brings tens of thousands to Main Street in Patchogue Village over the summer months, highlighting local food, craft beers, music, art, and vendors during Alive After Five. Now in its 15th year, the free summer street fair runs every other Thursday night, bringing visitors from all over to the heart of Patchogue for a taste of what the Village has to offer. The effort has helped propel revitalization efforts to the downtown, attract visitors from outside of the Village, and create a family-friendly atmosphere for both residents and visitors alike- all while supporting local business. The efforts of the Chamber have contributed to almost a 0% storefront vacancy on Main Street. Emphasizing the large role that the regular community festival has had on downtown Patchogue, David Kennedy, Executive Director of Patchogue Chamber of Commerce, stated, "The story of Alive After Five is the story of the revival of Patchogue."

Prior to this year's launch of Alive After Five on July 7th, Patchogue's first Village-run battle of the bands began, with 16 bands competing in Rock the Patch at five of Patchogue's amazing downtown venues, with the winning band featured at the Blue Point Brewery Main Stage at this year's first Alive After Five. Each Alive After Five event features six stages of live music either inside of one of downtown Patchogue's many restaurants or bars which were the cornerstones of Main Street's revitalization, or outdoors directly on Main Street, which is closed down to vehicular traffic during the events. The multiple stages throughout the downtown not only give a musical variety between close to 100 craft and retail vendors and almost a dozen food trucks, but also give a sample of the various menu items available to residents and visitors seven days a week.

Many of the restaurants and bars have events throughout the year, and are a destination for many people on Long Island, regardless of demographics. Rates for vendors to participate are low considering the foot traffic that is generated, giving smaller operations the opportunity to reach many prospective clients; those that are Greater Patchogue Chamber of Commerce Members and non-profit organizations receive a discounted vendor cost, giving local organizations a chance to excel. Many types of art is also showcased during the event, including body art, visual art and light shows. The event attracts a diverse range of vendors providing cultural food, music, and products. There's "shopping, beverages, craft vendors, and children activities," says Melissa Kuenhle of the Patchogue Chamber of Commerce. "There's really something for everyone." Kennedy adds that, "Patchogue is showing that we can keep our young people if we provide them an urban, centric type of atmosphere that's walkable, has great mass transit, restaurants, store fronts."

Due to the success of the event, the Riverhead Business Improvement District Management Association is looking to roll out a similar concept this summer in their budding downtown, modeled after Alive After Five in hopes emulating the same accomplishments. All of the restaurants will be involved in the Riverhead operation, dubbed Alive on 25, with the street fair coinciding with Riverhead's weekly summer car show nearby on the riverfront. Alive After Five and Alive on 25's event dates will alternate weeks, as not to compete, but complement the downtown efforts.

This year's Alive After Five dates in Patchogue will be July 7th, July 21st, August 4th and August 18th, with a rain date of August 25th just in case there is inclement weather on one of the event dates. For those who have not yet attended one of the events, or for those who have been and want to relive the excitement, the Greater Patchogue Chamber of Commerce and Alive After Five welcome you to another eventful summer in downtown Patchogue Village.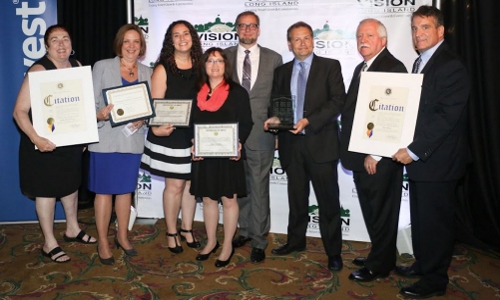 David Kennedy, Patchogue Chamber of Commerce: "Alive After Five is truly a reflection of the growth of Patchogue. We couldn't do it without the Village of Patchogue and our many community partners as well."
Transit Oriented Development: The Hills
Gitto Group; Village of Port Jefferson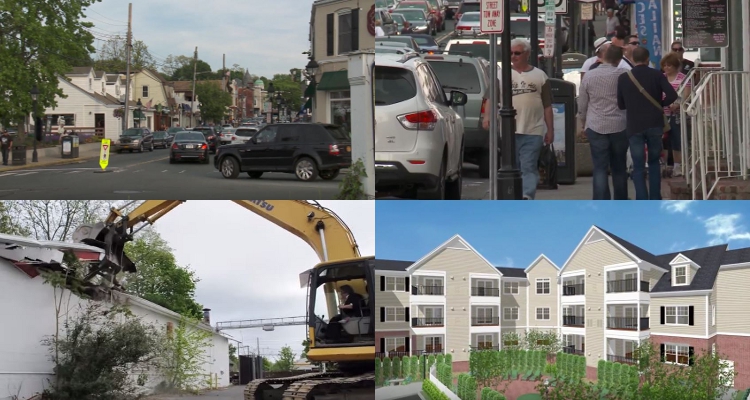 Upper Port Jefferson Village is moving ahead on their revitalization efforts after their groundbreaking for two new three story apartment buildings, creating a well-let, walkable housing solution in proximity to the Port Jefferson LIRR station in what is known as "Upper Port" in Port Jefferson Village. Port Jefferson has adopted a master plan which includes the revitalization of the Upper Port area. The undertaking will create 69 construction jobs and 5 permanent jobs for the area.
Port Jefferson based Rail Realty, headed by Smart Growth Award winner Anthony Gitto, has begun the development's two 3 story apartment buildings on the corner of Texaco Avenue and Linden Place known as The Hills at Port Jefferson Village. The project is the first to be started in the area under the revitalization plan.
Onsite parking, which is a problem being addressed in Port Jefferson's Comprehensive Plan is included in the development, with a total of 74 new studio, one and two bedroom units being listed at market rate. There was a waiting list of professional individuals that desire safe, up to date housing in Port Jefferson, with a quick commute to local hospitals, SUNY Stony Brook, and Brookhaven National Laboratory for phase one of the development, which is currently 80% leased, with occupancy beginning in July of this year. Construction of the second half of the development has just broken ground, with an expected completion date of the remaining half of the units expected in June of 2017.
All of the units are market-rate, with ranges of $1600-$2350 per month, depending on the selection of a studio-, one- or two-bedroom unit. Besides having the Long Island Railroad's North Line within walking distance, units include modern kitchens including granite countertops and stainless, gas heating and individually-controlled central air conditioning, in-unit washer and dryer, walk-in closets, with community amenities such as onsite bicycle and property storage, elevator service, and WiFi access in common areas, including the fitness center. Placing the parking behind the buildings helps improve the walkable nature of the neighborhood which sits right behind Main Street shops and placing the buildings closer to the sidewalk helps to define the street and give a more comfortable feel of an outdoor room. The courtyard space between the buildings also gives residents an outdoor space to socialize and enliven the neighborhood.
The construction of these apartment units is hoped to inspire small businesses such as cafes and restaurants and other retailers to follow suit and to create a sense of community in Upper Port, as well as extend the downtown part of Port Jefferson which already as quite a vibrant nightlife and day community. Rob Gitto of the Gitto Group stated that this is the first project the company has taken on with little or no opposition from the community. Everyone wants to see the Upper Port area revitalized. The beginning of the renaissance of the Upper Port Jefferson area was made possible in part by the Brookhaven Industrial Development Agency's assistance with incentives to facilitate redevelopment.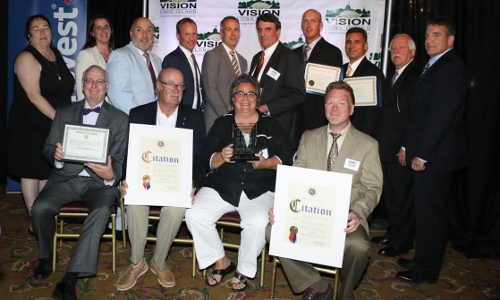 Rob Gitto, The Gitto Group: "We are 100% pre-leased, we are opening July 15th, and full speed ahead with the second phase of the project."

Mayor Margot Garant, Village of Port Jefferson: "This award ceremony is really about the partnerships we formed between the private and public sector. This particular project is very close to home to me. The Gitto family has been a wonderful support to the Village of Port Jefferson. This project will give young people and empty-nesters a gorgeous place to live. This complex will be instrumental in revitalizing an area in Port Jefferson Village in which the Board just deemed ten other buildings as blighted."
Mix of Uses: Sun Valley Towers
Alma Realty Corp; Village of Valley Stream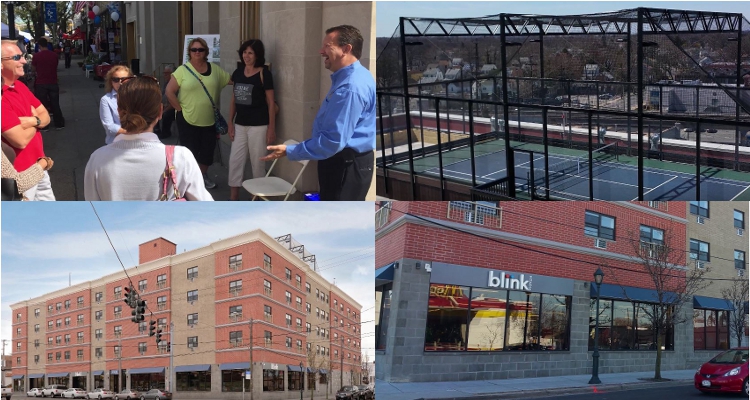 This year's award for Mix of Uses goes to Alma Realty Corporation and the Village of Valley Stream for the construction of the Sun Valley Towers.
The project is being developed by Alma Realty Corporation of Long Island City, a real estate company which owns and operates over 6,000 residential units and more than 1,500,000 square feet of commercial and retail space in the New York area in addition to managing over 300 units in Nassau County. In conjunction with the Village of Valley Stream, Alma Realty Corporation created the Sun Valley Towers, a new 72-residence rental complex on the southeast corner of Rockaway Avenue and Sunrise Highway.
The 16 million dollar, five-story, mixed use building has replaced a number of dilapidated residential and commercial structures which were deemed by the Village to arrest sound growth and development in the area. The redevelopment of these properties at a major intersection of the village's downtown business district will attract additional developers to invest in the area.
The top four residential floors feature one-, two- and three-bedroom units that each contain granite countertops, stainless-steel appliances, and hardwood floors. Underneath the residential units is a new 15,000 square foot gym. While the ground floor was originally designed for multiple retail locations, the plans were modified in order to include plumbing for the bathrooms and showers required by the fitness location.
The construction of this apartment complex is part of continued efforts by the Village of Valley Stream to revitalize their downtown area. The demolition and reconstruction of this site, which has been included in the Village's overall master development plan, follows the Smart Growth principles of mixed residential and commercial use to encourage walkability. "The whole idea of the project was to create a mixed-use environment," says Project Supervisor Christopher Giovanis. Mixed use buildings such as the Sun Valley Towers promote efficient use of land and infrastructure, encourage economic investment and development, and reduce auto-dependency and parking demands, roadway congestion, and air pollution by co-locating multiple destinations.
The new multifamily residential development is conveniently located adjacent to the Long Island Railroad, offering residents a short thirty-minute commute to Manhattan, and is just a quick walk away from the Rockaway Avenue commercial corridor. The development is likely to cater to young professionals looking for housing near mass transit, as well as young families who are not yet ready to purchase homes. The Mayor of Village of Valley Stream, Ed Fare, stated, "I can't emphasize enough the positive impact that the foot traffic of these residences are going to have on our downtown area. Businesses have spoken to us directly and said they were going to close, but are now renovating and expanding, and I expect to be at 100 percent occupancy of our stores very soon. Valley Stream is really at the cusp of growth and providing housing that Long Island's desperately in need of, as well as helping our own residences, our own businesses, stabilizing our taxes and allowing the village to have smart growth and grow and move forward in the 21st century."
New development projects such as this are likely to create interest in bringing additional projects to the area, indicating possibilities for job creation, economic activity, residential takeover, and adaptive re-use. Sun Valley Towers is a major part of ongoing improvements within Valley Stream, and will help to attract a dynamic and lively community, bolstering an already significantly strengthening area.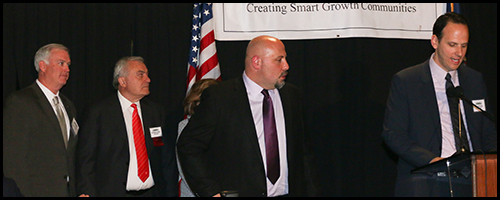 Chris Giovanis, Alma Realty: "The strategy behind Sun Valley Towers was to take a previously underutilized site and create a mixed-use development within walking distance to mass transportation and enhance, at the same time, an existing pedestrian-friendly corridor. With the help of the local community leaders, we developed a plan to create a commercial property that would enhance the current retail market and bring modern living amenities to the area."

Regional Leadership: Scott Rechler
RXR Realty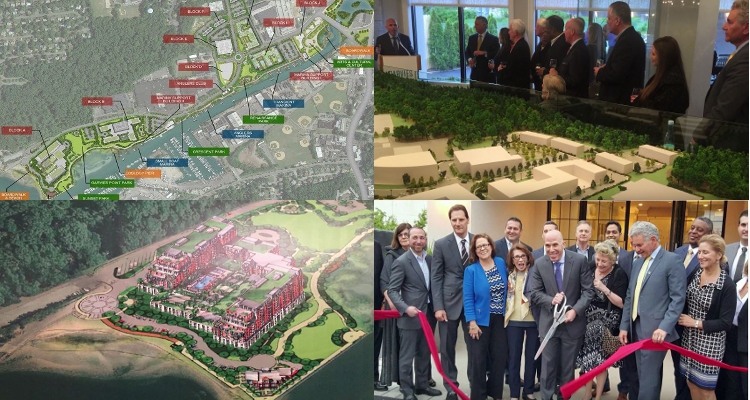 Proving that determination, persistence, and a strong will can lead to change, Long Island native Scott Rechler, President and CEO of RXR Realty, has lead by example in Long Island's evolving real estate market.
With over $12.7 billion and 23 million square feet in holdings, RXR Realty stands out as a diversified company, managing dozens of commercial properties and office space, as well as high-end residential developments that create a sense of place on Long Island for varied lifestyles. The opening of the 17-acre Ritz-Carlton Residences in North Hills, just 20 miles of Manhattan, allows a higher-end lifestyle in the fables Gold Coast area of Long Island's North Shore, where such large expanses of land for a planned community is scarce.
Speaking about RXR Rechler states, "I kind of think of our company as the region's lead developer of these incredible downtowns that were the epicenter of our communities that overtime have become more challenged. The future success of the suburbs that surround New York City is attracting that talent pool." Rechler's commitment to community on Long Island is highlighted with downtown redevelopment in Hempstead, with 336-unit Copper Place situated less than a half-mile from the Hempstead Transit Center, creating a luxury environment for residents while allowing them to stay connected to what is important in their lives at market rate. Cooper Place is the first of many phases of mixed-use redevelopment in the heart of Hempstead's downtown on Main Street through an initiative dubbed Renew Hempstead, bringing summer job and training programs for residents to lead the way to a revitalized downtown, monthly social gatherings and informational events to get the community acquainted with one another. Through the Hempstead Six program, Renew Hempstead is bolstering revitalization through six priorities; the cultural business district, building a "Hempstead is beautiful" movement, job and career training for residents, young people and education to provide activities and support for young people, entrepreneur development, and public safety efforts.
"What we're trying to do," says Rechler, "is create from the housing standpoint reasonably priced housing for young professionals, but in a lifestyle that's consistent with what they would want, where they have the entertainment, where they have the public transportation back to New York City. First comes talent, then comes jobs and the more that talent pool is on Long Island, the more likely we we'll be able to catch the larger companies that want to locate more of their operations on Long Island in the future." The Garvies Point redevelopment of Glen Cove is off and running after over 13 years, with the upcoming transformation of 56-acres along the once-toxic Glen Cove Creek into over 1,000 units of housing, 25,000 square feet of retail space, and 28 acres of publically accessible parkland- half of the total project's footprint. The $1 billion project not only accentuates Rechler's commitment to creating a sense of place, but is proof that persistence and determination is needed to create a different and improved Long Island. Through the use of Smart Growth development and environmental restoration and preservation, Garvies point will revitalize Glen Cove's downtown and make the future destination's waterfront accessible to all once more. Outside of the mixed-use residential and retail that will be available in the family-friendly development, over 5 miles of walkways will be developed, with three separate marinas will be constructed, as well as access to Glen Cove's Ferry terminal and future commuter ferry service to and from New York City.
This is just to name a few. All throughout Long Island RXR leads the way in crafting creative and modern style office space attracting both small and large businesses alike to downtown areas. RXR is known for bringing their successful Manhattan style development paired with characteristic local sense of place. Rechler emphasizes the importance of public private partnerships that help residents understand the vision for their community. Scott displays his commitment to bettering Long Island in many of his projects balancing upscale style development, appropriate density, community involvement and vision, and partnering with local municipalities to move projects forward.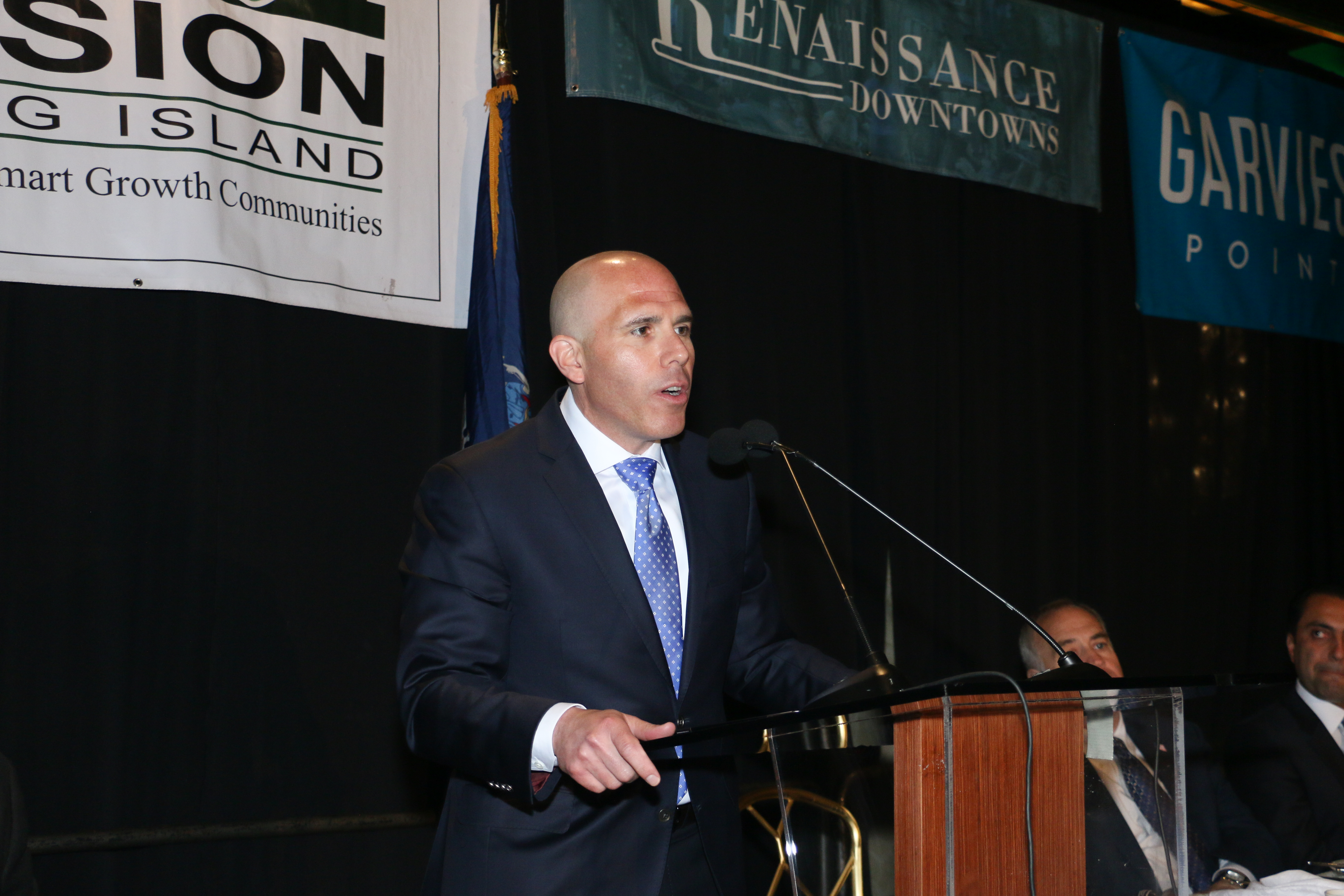 Scott Rechler, RXR Realty: "Any significant project needs to be a partnership between the developers and the community. All of the stakeholders should be involved from the get go to create a shared vision for the project. It is up to each and everyone of us to spread the word about what needs to be done and to guide our community towards a new golden age for the 21st century."
Here Are Some Supporting Remarks From The Event:
"The range of projects recognized with Smart Growth Awards over the years illustrates the efforts to revitalize our communities, including clean energy and green building development, mixed land use, open space preservation, enhanced public transportation and walkable neighborhoods, affordable housing and more" NYS Comptroller Tom DiNapoli

"Alma Realty is proud to be honored with a Long Island Smart Growth Award, recognizing our commitment to sustainable, transit-friendly development and long-term investment in Valley Stream," said Chris Giovannis of Alma Realty Corp. "The Sun Valley Towers apartment complex has created new high-quality housing that is just blocks from the Long Island Railroad, encouraging residents to make greater use of mass transit. The complex's convenient, central location helps further realize our vision of a reinvigorated downtown where residents can walk, bike, shop and help the local economy thrive. I want to thank Vision Long Island for its dedication to creating a greener future for all of our communities."
"We thank Vision Long Island for honoring Marina Pointe East Rockaway with this Smart Growth Award. Our intent is to transform a Superstorm Sandy ravaged waterfront into new, attractive and energy-efficient homes built with state-of-the-art storm resiliency building methods," says Michael Dubb, Founder and CEO, The Beechwood Organization.
We have accomplished our goal it may take you five more minutes to cross through our community but its safer, pedestrians can cross the street and in that regard I am proud" Hon. Don Barbieri, Village of New Hyde Park speaking on a completed traffic calming project in his community.
"We show the community the value of arts. The arts are like the air we breathe. What would life be like without music, visual art, dance, song. Collectively it brings a diverse community together. When the arts are strong a community is strong." Pat Snyder, East End Arts
"America's largest township proudly lends its support to the 15th Annual LI Smart Growth Awards. This gala event, which attracts prominent members of both the public and private sectors, celebrates the visionary people and projects in regional smart growth projects", Anthony Santino, Supervisor, Town of Hempstead
"The most uplifting thing that I've seen over the years is that more and more of Long Island's leadership has grasped this vision and they are moving forward down that path and that gives me a tremendous amount of optimism" Scott Rechler, Chairman and CEO RXR Realty
Public Officials In Attendance:
NYS
NYS Comptroller Tom DiNapoli
NYS Senator Jack Martins
NYS Senator Phil Boyle
NYS Senator Todd Kaminsky
Vanessa Lockel, Office of NYS Governor Andrew Cuomo
Marianela Jordan, Office of NYS Governor Andrew Cuomo
Nassau County
County Executive Ed Mangano
Comptroller George Maragos
Legislator Delia DeRiggi-Whitton
Legislator Ellen Birnbaum
Legislator Judy Jacobs
Legislator Laura Curran
Rene Fiechter, Office of Nassau County DA Madeline Singas
Suffolk County
Comptroller John Kennedy
Presiding Officer DuWayne Gregory
Legislator Kevin McCaffrey
Federal
Kyle Strober, Office of US Senator Charles Schumer
Debbie Tinnerello, Office of US Senator Kirsten Gillibrand
Max Kramer, Office of US Congresswoman Kathleen Rice
Town of Brookhaven
Councilman Dan Panico
Former Councilwoman Connie Kepert
Town of Hempstead
Councilman Ed Ambrosino
Town of Huntington
Councilwoman Susan Berland
Councilman Marc Cuthbertson
Town of Islip
Councilman Steve Flotteron
Town of North Hempstead
Councilwoman Dina De Giorgio
Former Supervisor Jon Kaiman
Town of Oyster Bay
Councilwoman Rebecca Alesia
Councilman Anthony Macagnone
Town of Riverhead
Councilman James Wooten
Former Councilwoman Barbara Blass
Cities & Villages
City of Glen Cove Mayor Reggie Spinello
City of Glen Cove Deputy Mayor Barbara Peebles
Village of Farmingdale Mayor Ralph Eckstrand
Village of Farmingdale Deputy Mayor Patricia Christensen
Village of Farmingdale Trustee Cheryl Parisi
Village of Freeport Trustee Jorge Martinez
Village of Great Neck Plaza Jean Celender
Village of Island Park Mayor Micharl McGinty
Village of Plandome Heights Mayor Diana Merenda
Village of Plandome Manor Mayor Barbara Donno
Village of Manorhaven Trustee James Aveena
Village of Manorhaven Trustee Priscilla von Roeschlaub
Village of Mastic Beach Mayor Maura Spery
Village of Mineola Mayor Scott Strauss
Village of Mineola Deputy Mayor Paul Pereira
Village of Mineola Trustee Paul Cusato
Village of Mineola Trustee George Durham
Village of Mineola Trustee Dennis Walsh
Village of New Hyde Park Trustee Don Barbieri
Village of Patchogue Deputy Mayor Lori Beth Devlin
Village of Port Jefferson Mayor Margot Garant
Village of Westbury Mayor Paul Cavallaro
Village of Westbury Deputy MayorJoan Boes
Village of Westbury Trustee William Wise
Check Out Our Event And Media Links: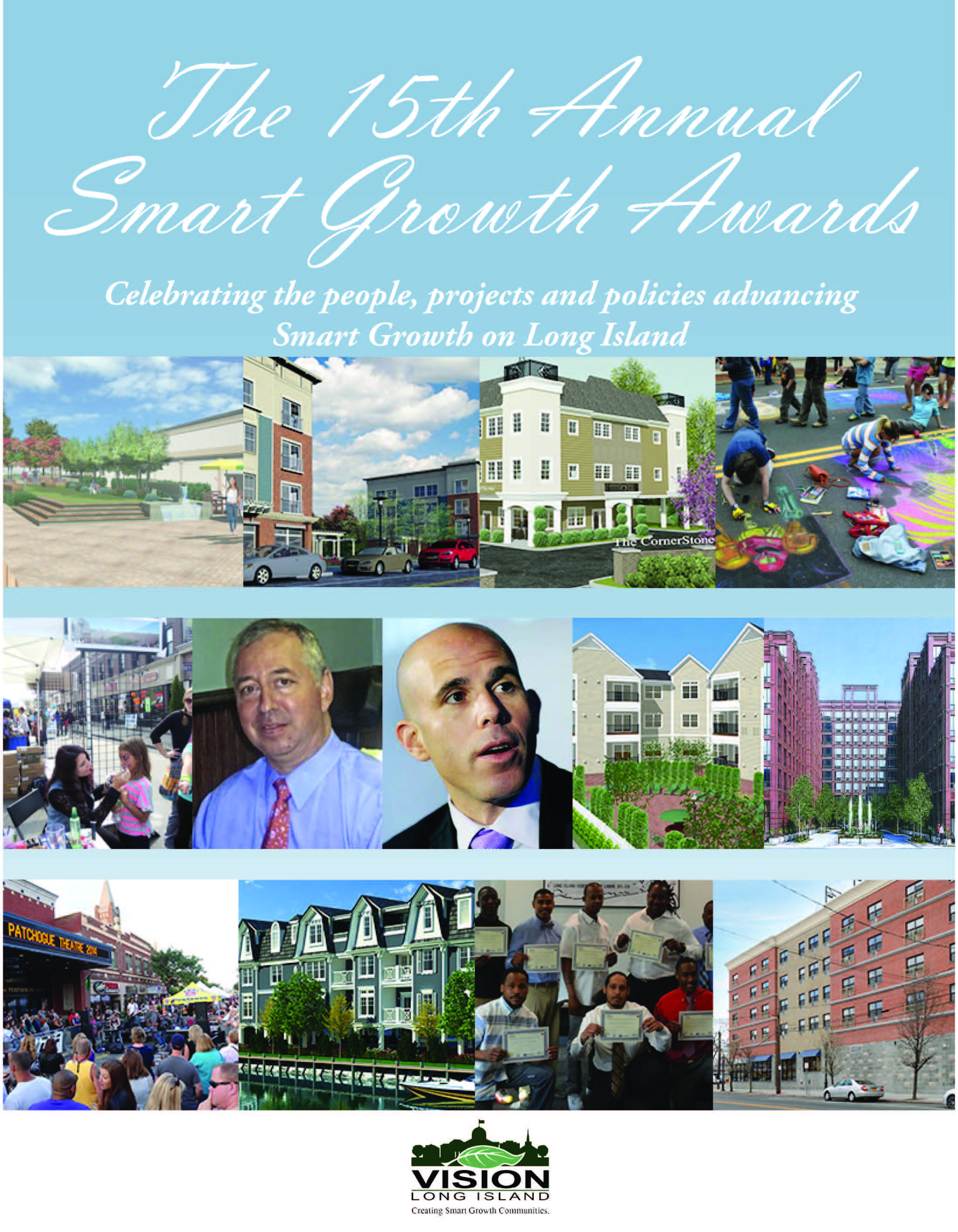 The event journal is available online here.

View this Long Island Business News article on the event.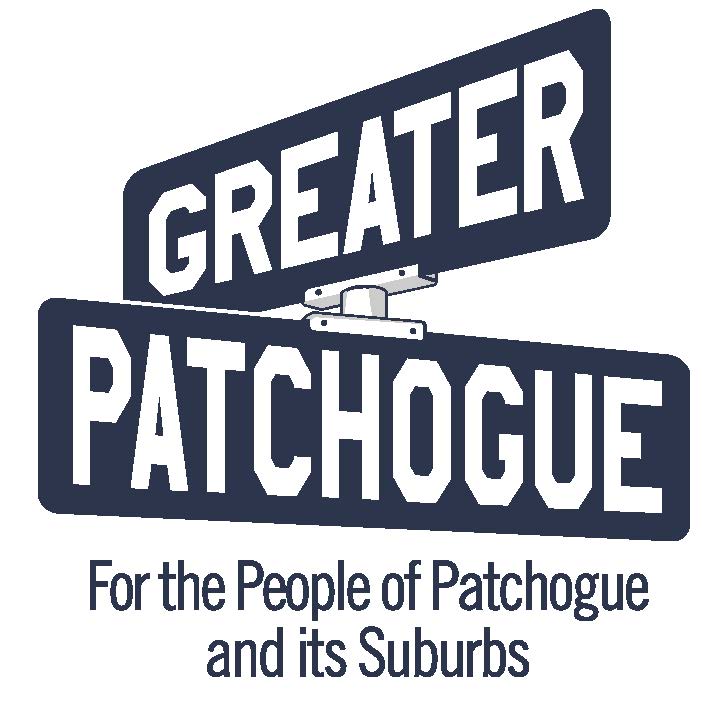 View this Greater Patchogue story on Smart Growth Award winner, the Alive After Five Festival.

View this Newsday story on Smart Growth Awards winner, Scott Rechler of RXR.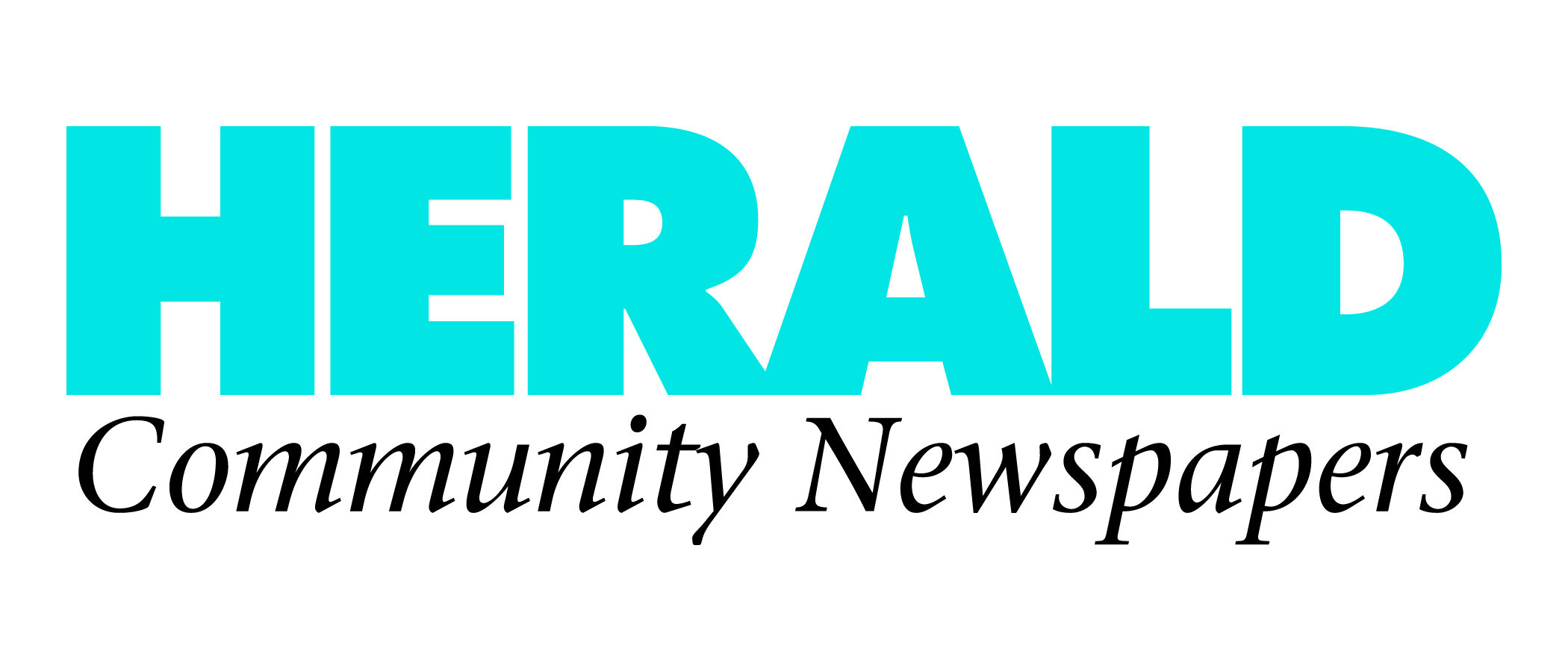 View this Herald story on Smart Growth Awards winner, Marina Pointe.
Here Are Some Of The Photos From The 2016 Smart Growth Awards:











Save the Date for the 15th Annual Smart Growth Summit on Friday, December 2nd!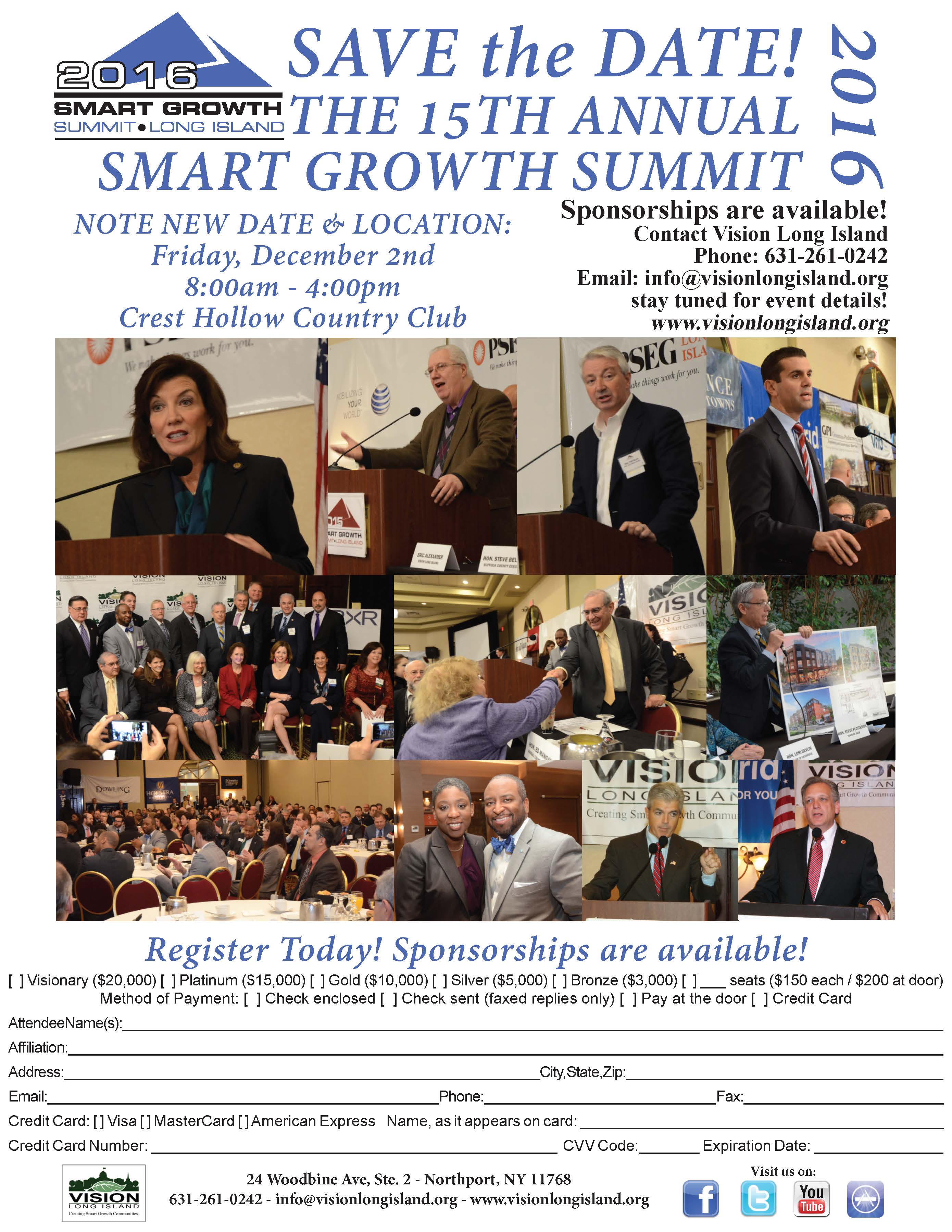 Register today! Sponsorships are available!
[ ] Visionary ($20,000) [ ] Platinum ($15,000) [ ] Gold ($10,000) [ ] Silver ($5,000) [ ] Bronze ($3,000) [ ] ___ seats ($150/person)
Method of Payment: [ ] Check enclosed [ ] Check sent (faxed replies only) [ ] Pay at the door [ ] Credit Card

Attendee Name(s): ____________________________________________________________________________________________
To RSVP or for more information please contact 631-261-0242, info@visionlongisland.org or fax 631-754-4452.
In Closing...
We are pleased to report the 15th Annual Smart Growth Awards was a special event for all of us working to maintain and create great places on Long Island. The attendance was the largest we have ever had and the energy in the room was spectacular. We would like to thank all of the communities, businesses, public officials and sponsors who made the event a success but more importantly thanks for all you do each day to advance Smart Growth on LI.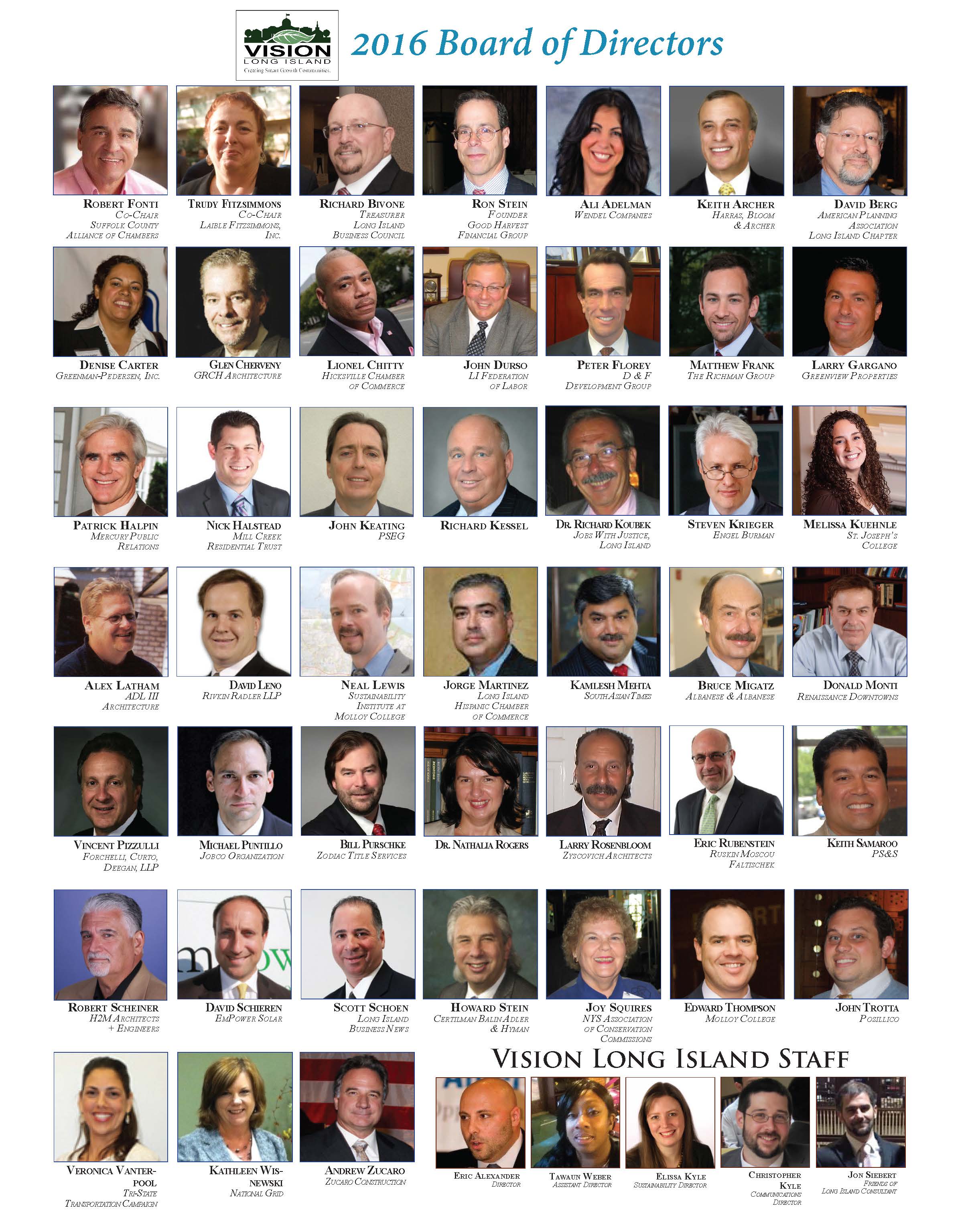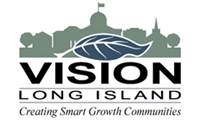 Vision Long Island
24 Woodbine Ave., Suite Two
Northport, NY 11768
Phone: 631-261-0242. Fax: 631-754-4452.
Email: info@visionlongisland.org
Website: www.visionlongisland.org
Home | Contact Us | Newsletter Archive | Donate | About Us