17th Annual Long Island Smart Growth Awards Celebrates Progress, Leadership
Over 800 community, business and government leaders gather to celebrate Smart Growth individuals and projects from 2017 - 18

The 17th Annual LI Smart Growth Awards took place Friday, June 8th from 11:00am to 2:00pm at the Crest Hollow Country Club in Woodbury, with over 800 of Long Island's civic, development, and government leaders in attendance to honor individuals and organizations advancing successful downtown and infrastructure initiatives driven by bottom up collaborative planning.
The Awards featured a welcome from Nassau County Executive Laura Curran. County Executive Steve Bellone also gave an update on progress that Suffolk has been making. Islip Supervisor Angie Carpenter, Oyster Bay Supervisor Joseph Saladino, Riverhead Supervisor Laura Jens Smith and Smithtown Supervisor Ed Werheim were in attendance along with over 50 Long Island elected officials, 40 chamber of commerce leaders, and 30 civic leaders at the event as well, representing over 50 downtowns across Long Island.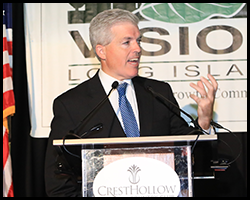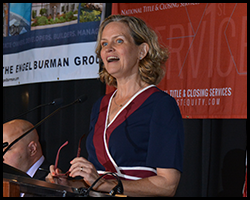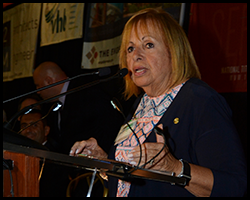 This year 46 nominations were received and reviewed, from which with the following 12 individual and project leadership awards were selected:
Regional Leadership Award: posthumously to John Kominicki, former Publisher of Long Island Business News, for his early leadership addressing our region's many business districts and constant collaboration with Long Island leadership on critical issues.
Regional Leadership Award: to Denise Carter, from Greenman Pedersen, for her leadership transforming the culture of transportation projects towards Complete Streets, sustainability, and transit oriented development.
The Project and Organizational honorees included Georgica Green and Town of Riverhead for Housing Choices with their mixed use affordable housing project in downtown Riverhead. D&F Development and the Village of Patchogue for Housing Choices with a needed Assisted Living project in downtown Patchogue. Tritec Development and the Village of Port Jefferson for Strengthening Communities with their waterfront project in downtown Port Jefferson. Nassau Council of Chambers of Commerce and Suffolk County Alliance of Chambers for Small Business leadership advocating for Main Street business needs. Village of Rockville Centre for creating a Sense of Place and a true destination for south shore Nassau County. Hicksville Chamber of Commerce, Hicksville Community Council, Hicksville Downtown Revitalization Committee, and Town of Oyster Bay for Revitalizing Communities through a downtown plan in a long neglected train station hub. Kings Park Civic Association and Kings Park Chamber of Commerce for Citizen Participation creating a vision plan and securing funds for sewers. American Organic Energy for Environmental Leadership creating the region's first Anaerobic Digester addressing our regions solid waste issues. NICE Bus for Transportation Choices maintaining a well-utilized suburban bus system through difficult financial times. Governor's Office of Storm Recovery Community Reconstruction Program for Infrastructure bringing south shore reconstruction dollars to prepare for the next storm.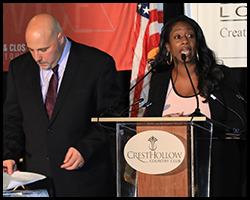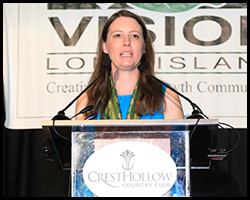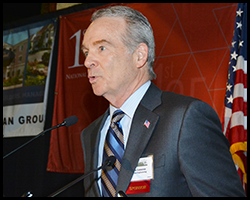 All of the honorees and their resulting projects have utilized bottom up collaborative approaches to achieve their resulting projects and accomplishments.
"In an era where polarization and discord dominate the press coverage, this year's group of honorees have achieved results by working with local communities and municipalities through bottom up planning. Over the last 6 years, 82 of 95 public hearings for downtown projects have had more support than opposition at public hearings. This year's honorees are a critical part of the positive, community driven transformation of our local downtown business districts and deserve recognition," said Eric Alexander, Director of Vision Long Island.
Of Long Island's 100 downtown business districts, 60 have revitalization plans and 40 are actively moving projects forward. All told, nearly 14,000 units of transit oriented development housing have been approved over the last fourteen years along with countless other downtown projects.
We would like to thank our 2018 Smart Growth Awards Sponsors.
Platinum Sponsor: 1st EquityTitle
Gold Sponsor: Lalezarian Properties
Silver Sponsors: National Grid, Mill Creek Residential, Southwest Airlines, Southern Land Company, GPI / Greenman-Pedersen, Inc., RXR, The Engel Burman Group, H2M Architects + Engineers, Concern for Independent Living, Inc., Georgica Green Ventures, Renasance Downtowns, Terwilliger & Bartone Properties, VHB, PSEG Long Island, Heartland Business Center
Bronze Sponsors: Caithness Long Island, The Coltrane Home, GRCH Architecture, Harras Bloom & Archer LLP, GEI Consultants, Inc., St. Joseph's College, Jobco, Certilman Balin Adler & Hyman, LLP, Bohler Engineering, Forchelli Deegan Terrana LLP, NEFCU, Zyscovich Architects, Sustainability Institute at Molloy College, The Alumni Association of SUNY Old Westbury, MDG Design & Construction, Third Street Associates, Hofstra University, Zucaro House Lifters, Inc., Trinity Solar Long Island, SUEZ Water Long Island, Posillico, Conifer Realty, The South Asian Times, Nassau Inter-County Express / NICE Bus, Nassau County IDA, BHC Architects, Cosentino Realty, Ruskin Moscou Faltischek, P.C., Cameron Engineering, RMB Drafting Services, American Organic Energy, Latham Post Group, People's United Bank, LIPA, Plumbers Local Union #200, Tritec Real Estate Company, D&F Development, Greenview Properties, Simon Property Group, Kings Park Chamber of Commerce, Cronin & Cronin, SunPower by EmPower Solar, IBEW Local 25, Village of Rockville Centre, New York Youth Summit, Suffolk County Alliance of Chambers, Herald Community Newspapers, Nassau Council of Chambers of Commerce, Fair Media Council, Hicksville Chamber of Commerce, Noticia, Long Island Business Council, Nassau County Village Officials Association, AARP Long Island, Long Island Press, Minuteman Press, Crest Hollow Country Club, Long Island Business News, Newsday, the Corridor, Michelle GT Photography, Stephen B. Jacobs Group, Rivkin Radler LLP

Congratulations To This Year's Distinguished Honorees:
REVITALIZING COMMUNITIES
Hicksville Downtown Revitalization
Hicksville Chamber of Commerce, Hicksville
Community Council, Hicksville Downtown
Revitalization Committee, the Town of Oyster Bay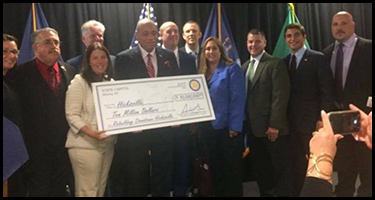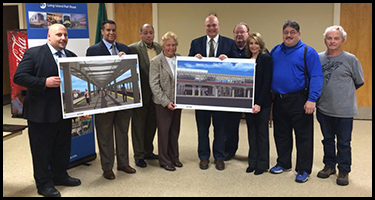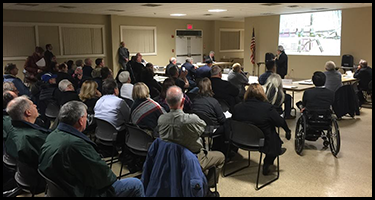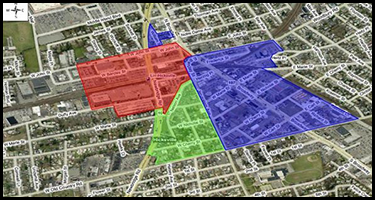 This year's winner of the Revitalizing Communities Award goes to the Hicksville Chamber of Commerce, Hicksville Community Council, the Hicksville Downtown Revitalization Committee and the Town of Oyster Bay.

The Hicksville community has been working towards improvements to its downtown area dating back to the 1970s after the widening of routes 106 and 107 and the construction of numerous commuter parking lots caused many of the downtown buildings to be torn down. With the $100 million investment by the MTA into the Hicksville Station, people began to feel that change is possible. In 2010, the Hicksville Chamber of Commerce began a new effort to revitalize the Central Business District which includes the area known as the "Triangle" adjacent to the train station. The Chamber reached out to the Community Council which represents numerous community organizations throughout Hicksville. With the help of Vision Long Island, a public visioning session with the Chamber, Community Council, and over 300 participants launched the development of a community vision for the future of the downtown that was economically feasible and had significant support.

From public meetings, a revitalization committee was established consisting of residents and business owners from all parts of Hicksville. The committee refined the ideas that were generated during the public input sessions into a Revitalization Action Plan that focused on different facets of revitalization including walkability, parking, housing and zoning. Representatives from the Town of Oyster Bay participated in committee meetings to determine how the town could support the revitalization effort. The Action Plan, along with an economic study of the plan, was formally presented to the entire town board in the summer of 2013.

In 2016, the town began to develop a revised zoning code for the Central Business zone based off of the recommendation in the Action Plan. The proposed changes allowed for residential units to be built in the downtown, remove several auto-oriented uses from the permitted uses in the district and modified the dimensional requirements to allow for more pedestrian-friendly development. Two large public information meetings were held, with over 500 people each, for the proposed zoning to both share information and gather public input.

During the rezoning process, the town applied for and was awarded a $10 million grant through the state's Downtown Revitalization Initiative. The grant required an extended public input process which was conducted last year. This process gathered additional public input to prioritize funding from the grant. This process was fundamentally similar to the recommendations in the Action Plan and will assist in bringing additional NYS dollars to fund the revitalization efforts. Two new downtown mixed-use projects are now approved with many others in the planning stage.

The partnership between the Hicksville Chamber of Commerce, The Hicksville Community Council, the Hicksville Downtown Revitalization Committee and the Town of Oyster Bay has allowed for the revitalization of downtown Hicksville to finally move forward after decades of delay.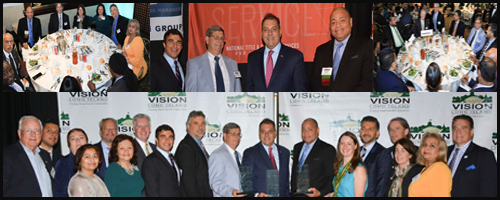 HOUSING CHOICES
Riverview Lofts
Georgica Green and the Town of Riverhead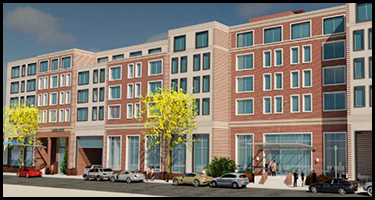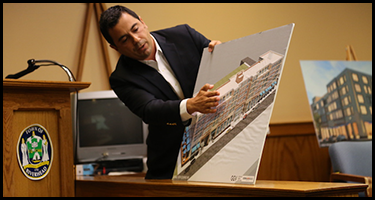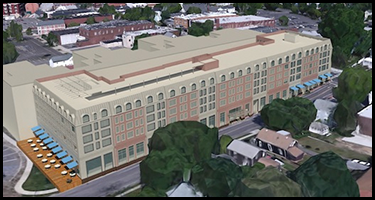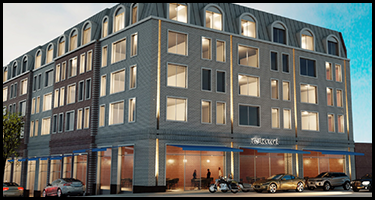 One of this year's honorees for the Housing Choice Award goes to Georgica Green and the Town of Riverhead.
As of late, Riverhead has really begun to gain momentum in their long-anticipated revitalization efforts in their historic downtown. Serving as a gateway to the east end, town officials have been looking for ways to capitalize on their locale for years, with various projects and programs in place to draw foot traffic and new residents. Adding transit-oriented development was considered a vital part of the plan. The site for this project, left blighted after Superstorm Sandy, is within close proximity to the train station, several bus routes, parks, recreation, and the waterfront and downtown shops.
After 20 months of negotiations to transform three vacant commercial parcels into workforce housing, Georgica Green Ventures has started demolition on of what will become the Riverview Lofts. The $56 million, five-story mixed-use development features 116 workforce apartments, over 6000 square feet of retail space with two restaurants totaling 531 seats on the ground floor. Underground parking will be available on Main Street. Funding for the project came from both the public and private sectors.
Riverview Lofts will include 31 studios, 37 one-bedroom, and 28 two-bedroom apartments. Rents will range from $976 to $1,326 for the studio apartments, $1,210 to $1,659 for the one-bedroom, and $1,452 and $1,955 for the two-bedroom apartments. Overlooking the river and East Main Street, this mixed-income development will provide some relief to the demand for rental housing on the east end.
The site plan provides for 55 on-site parking spaces and will leave ample parking available in the downtown's parking district. Parking spaces underneath the restaurant are toward the north end of the property that sits on higher ground than the south end, which is in a flood zone. They have proposed raising the ground floor of the project by four feet in order to build more resiliently.
This project is beneficial to places like Peconic Bay Medical Center which has publicly stressed the need for housing for its employees over the last several years. A majority Town of Riverhead elected officials have been giving praise for the development. The project has recently broken ground and is anticipated to be completed this fall.
This project conforms to the Town of Riverhead's Master Plan and compliments other downtown housing developed in recent years. David Gallo, President and a principal at Georgica Green, currently holds an interest in over 600 units of affordable housing.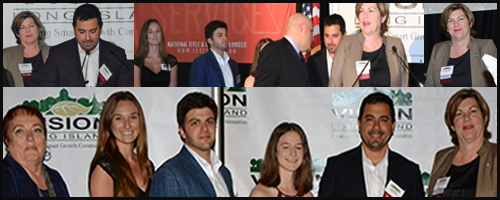 HOUSING CHOICES
Village Walk Assisted Living
D&F Development and the Village of Patchogue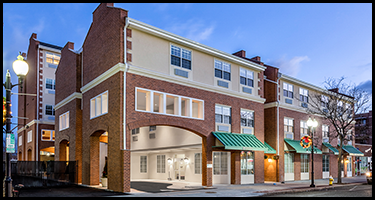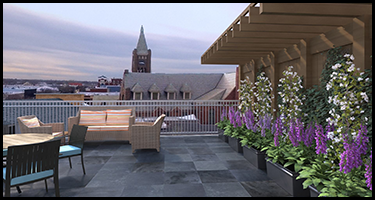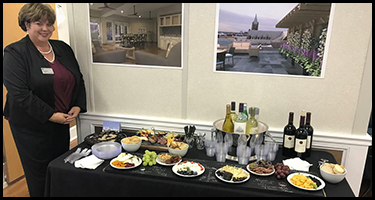 This year's Housing Choice Award winners include D&F Development and the Village of Patchogue.
Village Walk is an all-new assisted living and memory care community in the Village of Patchogue. Perfectly located on East Main Street in the midst of the village's downtown, our aging population now has the opportunity to stay a part of the Long Island community they love with the added security of tailored, hospitality-based assisted living and memory care services. This new addition contributes to the character along Main Street. It also speaks to the Village's desire in attracting not only young adults and artists but families and the aging population.
With the variety of housing opportunities within the village, mainly accredited to the Mayor's revitalization efforts, housing for seniors and the disabled is limited. The development has also created 70 full and part-time jobs to downtown Patchogue. Village walk has helped the village in its goal of stabilizing the community so it has sustainability over time and helping families to stay together through multigenerational options.
The complex has 145 apartments, with 46 of those being set aside for residents with Alzheimer's and other dementia diseases. This is in addition to 24-hour nursing care that will be available to residents, which is not a typical amenity for apartments. It includes a wellness center, theater, a Main Street Bistro, luxury apartments, pub, fitness center, and more. With it reaching a height of five stories, the observation deck provides residents with views of Fire Island and the Great South Bay.
Located directly on Main Street, the building design took into account the character of the area while still achieving the density required to address the need for this type of housing. The building does not overpower, instead subtly stands out. The look of the building fits in as if it were always a part of the Main Street and has since become a part of the fabric of the community.
Earlier this spring, more than 100 attendees including elected officials, members of the Patchogue Chamber of Commerce, and community celebrated the opening of the $34 million state-of-the-art facility. This new facility has provided an opportunity for the aging populations specifically to be a part of all the village has to offer and creates the option to age in place for many local residents.
Under the direction of Mayor Pontieri, the administration has taken a smart growth approach to revitalizing Patchogue Village and has become a model for other Long Island downtowns looking to do the same. The redevelopment of the Village is centered on the downtown and LIRR with 700 of the 900 units of housing build since 2004 within walking distance of the downtown. Bars, restaurants, and a vibrant nightlife have defined Main Street in the past few years, helping to transform the downtown into a lively scene that has attracted visitors from as far as Queens and the Hamptons, all within walking distance of the LIRR.
Peter Florey of the D&F Development Group partnered with Leonard Amico in 2002 and has since completed twenty affordable residential projects with over 2,000 residential units and 50,000 square feet of commercial space. D&F has another six projects underway across the island.
Working with Federal, State representatives, Mayor Pontieri has secured over $36 million dollars for capital improvements, i.e. road paving, street lighting, workforce housing and expansion of the sewer treatment plant.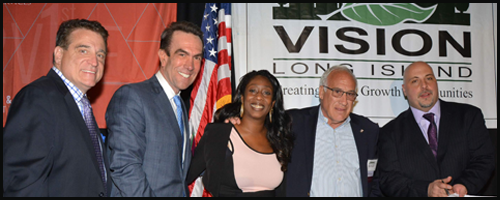 TRANSPORTATION
NICE Bus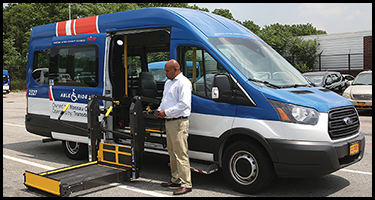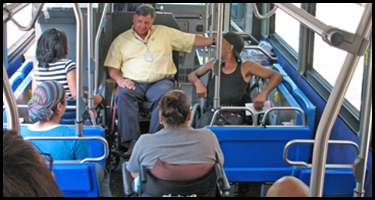 This year's award for Transportation goes to NICE Bus for their efforts in improving Nassau County's public transit system.
During a time of uncertainty regarding the future of Nassau's bus system, NICE Bus came in and provided services to keep the buses running with a goal of reliable, accessible service. NICE Bus is an innovative partnership between Nassau County and Transdev that began nearly 7 years ago.
The system carries roughly 100,000 passenger trips on the average weekday totaling approximately 35 million a year. It is one of the most heavily utilized systems in the country, yet, quite possibly still too small of a system to meet the current demand. However, Transdev is looking at ways to reduce this gap with a larger and more effective system in the future.
Since taking over the Nassau bus system in 2012, NICE Bus has kept the bus service running during some of the most fiscally challenging times for this service over the last 25 years. NICE Bus was able to rework the existing system to restore routes that were previously discontinued due to lack of funding. While some routes with very low ridership were cut, NICE Bus has made it their focus to expand services particularly for those who need it most.
Ridership can be broken down into a few categories including the largest being those who use the buses to get to and from work, college-age students, and the Able-Ride passengers who are unable to ride the regular transit system due to their disabilities. The Able Ride consists of almost 1300 trips on a weekday.
Last year alone, NICE Bus provided close to 200,000 free rides through the Everyone Rides NICE Foundation by Transdev. The program was used to help allow clients from a range of human service agencies, who could not afford transportation, the access to the services they needed. The average recipient of the free rides had a household income of only $650 a month.
Nearly $1.25 million in funding for this program was donated to the program by their own corporate foundation. During this time, NICE has been a strong advocate in helping to push for more funds for bus service. Through their lobbying efforts and other transportation advocates, NICE Bus has been able to maintain the existing funding with some modest increases despite the calls for a reduction in funding and service. Part of the advocacy includes education on what it takes to have a first-class transit system.
Notwithstanding the projections for significant fare hikes due to reduced funding from the county and state, NICE Bus has been able to keep the increase in fares minimal. Part of this has been an effort at developing alternative options like replacing some of the 40-foot buses with smaller right-sized buses. This has allowed for more fiscally responsible solutions and helped increase efficiency within the system.
Transdev has developed a long-term plan for Nassau with the first objective to increase the carrying capacity so the County can get as many passenger trips as possible out of the funding available. This could go a long way in serving areas that are having difficulty servicing the needs of all of the local residents.
Coming this month, they also plan to roll out their new program in the southeast corner of the county called LINK. It will include 5 small buses which you can order on your phone or tablet and the system will negotiate with you when they can pick you up and how long the ride will be.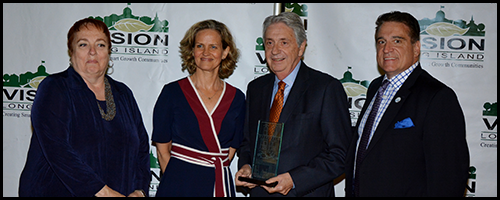 ENVIRONMENTAL LEADERSHIP
American Organic Energy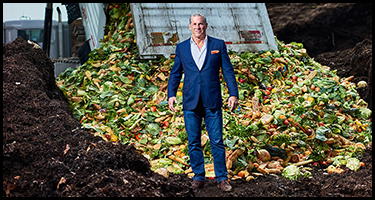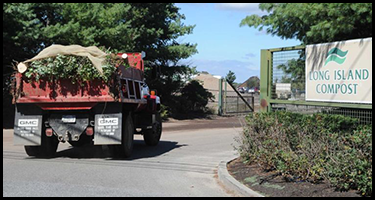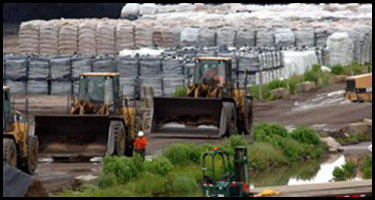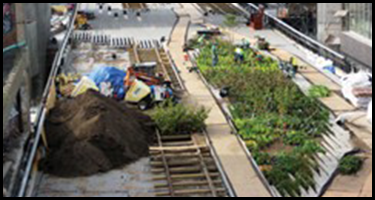 This year's honoree for the Environmental Leadership Award goes to American Organic Energy.
Charles, Dominic, and Arnold Vigliotti founded Vigliotti Bros. Carting Corporation in 1976. They ran the business for nearly twenty years before forming Long Island Compost Corp., a groundbreaking business model that allowed them to transform yard and food waste into rich compost and fertilizer on a large scale.
Each year, Long Island Compost recycles hundreds of thousands of tons of leaves, grass clippings and other landscape-related materials generated by Long Islanders. The company also plays a critical role in developing organic, earth-friendly solutions to the region's most daunting environmental challenges including the remediation of the Peconic Bay and vital South Shore waterways.
Long Island Compost soon became known as one of the premier manufacturers and distributors of engineered soils in the nation and was distributed at garden centers and high-profile retail centers throughout the Northeast. In addition to the retail operation, the Long Island Compost design laboratory engineered bulk soil and mulch products for landmark regional projects such as the National World Trade Center Memorial, Citi Field and numerous green rooftops throughout New York City.
In 2016, Long Island Compost entered into a joint venture with Scotts Miracle-Gro to distribute retail soil and mulch products, which set the stage to establish American Organic Energy (AOE), the next generation of organic waste solutions.
American Organic Energy is aligned to transform the way food waste is disposed of by introducing the first anaerobic digester in the New York Metropolitan Region. This represents the first significant step in their continued efforts toward changing the current outdated waste disposal practices in the region. Though their commitment to sustainability and the intelligent reuse of materials, they will reduce more than 40,000 tons of greenhouse gas emissions, as well as 180,000 tons of food waste per year that would have been transported via tractor-trailer off Long Island and into landfills.
Yaphank will become the home to one of the most efficient waste stations in the region. The intention is to take food waste from places such as supermarkets, catering halls, restaurants, and hospitals. They will pull the food and build an anaerobic digester that will capture the naturally released gas. In building their own power plant, AOE will use the power to handle the parasitic load of the plant itself with the rest of the power entering the grid as clean renewable energy. The nondigestables will be recycled. Once fully operational, Long Island will produce a fraction of its current true waste. This becomes increasingly important as the Brookhaven Landfill reaches its cap, with expectations to be fully closed in 2024.
The project was shaped with public input from local neighborhood and environmental organizations and the Town of Brookhaven through robust dialogue and planning for many years.
With the commencement of the anaerobic digester project, AOE will convert food waste into usable material: vehicle fuel, electricity, compost, and fertilizer to help nourish and sustain the Island we call home. The construction of one of the most sophisticated food waste processing plant in the world will set the stage for Long Island to be a global leader in smart and ecologically-sound food waste handling practices. Not only will it increase the quality of life for the residents currently affected by the impacts of the existing open-air landfill, it marks a significant step in Long Island's future to reducing waste and creating renewable energy.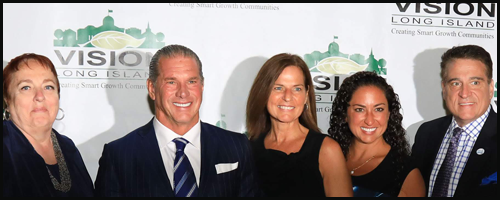 CITIZEN PARTICIPATION
Kings Park Downtown Revitalization
Kings Park Civic Association and
Kings Park Chamber of Commerce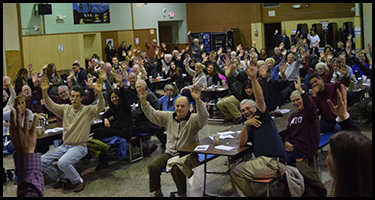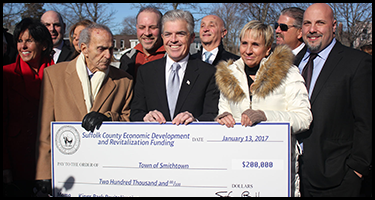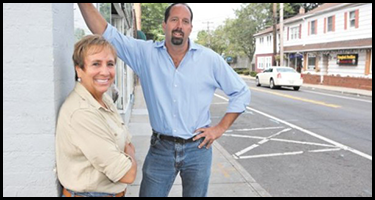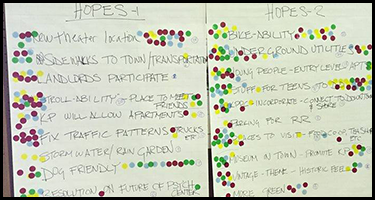 This year's winner of the Citizen Participation Award goes to the Kings Park Civic Association and Kings Park Chamber of Commerce.
While Kings Park residents take delight in many of its aspects including the nearby parks and beaches all within a short distance and easy rail access to NYC, their downtown has seen some challenges. It has been difficult to attract and retain businesses along Main Street. Over the past decade, the Kings Park community has become increasingly concerned over the condition of Main Street and the surrounding downtown area.
In 2015, the Kings Park Chamber of Commerce and the Kings Park Civic Association partnered together to sponsor a public process for a downtown revitalization plan that was sourced from the local community and stakeholders. They reached out to Vision who, along with a volunteer design team, developed a Revitalization Action Plan that would work for Kings Park residents. The goal was to hear from the community first without the interference or limitations of government. The first public meeting to develop this plan was held with over 300 residents attending and providing input of their hopes for the downtown.
Prior to the main meeting, a smaller group of residents joined the design team for a walking tour around the downtown noting the conditions of pedestrian facilities and building facades, the number of vacancies, and other challenges affecting the overall health of the downtown. During the public meeting, several exercises were done to gather different types of input including an image survey, group design tables, and a question and answer session.
Following this meeting, Vision continued to meet with the Civic and Chamber to ensure that the draft plan fully reflected the community's vision. After the action plan was further developed, a second public meeting was held, again with over 300 participants. The draft was presented to the community for further input and to clarify details of the plan. Community concerns about multifamily housing and other issues were addressed during those public meetings. From these public meetings, the Action Plan was finalized and presented to the town board in the fall of 2016.
Many of the recommendations in the Action Plan call for additional development to increase foot traffic along Mains Street. To grow their presence on Main Street, any new development would require sewers in order to manage the wastewater generated. The Civic and the Chamber along with the Long Island Lobby Coalition lobbied NYS for funding that was eventually secured by Governor Andrew Cuomo and NYS Senator John Flanagan with assistance from Suffolk County. In 2017 Kings Park was granted $20 million in state funding in order to construct the system.
In early 2018, the Town of Smithtown hired a team to develop a formal master plan for the downtown including zoning modification recommendations and a GEIS for the future development. The plan which is currently underway will help to guide new development once sewers are a reality.
While the plan for sewers is underway, the community organizations have begun to address many of the items identified as low hanging fruit. They have planned community-wide events and festivals to attract people to their downtown and boost their local economy.
Without the Kings Park Chamber of Commerce and the Kings Park Civic Association partnering together and reaching out to the Kings Park community, there would not be the momentum to move revitalization efforts forward today.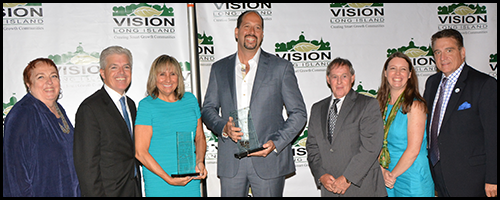 SMALL BUSINESS
Nassau Council of Chambers of Commerce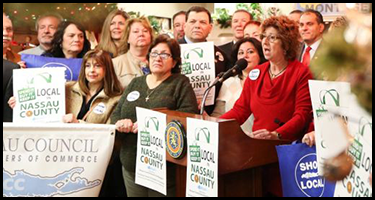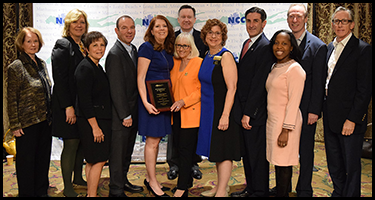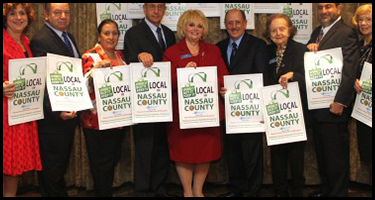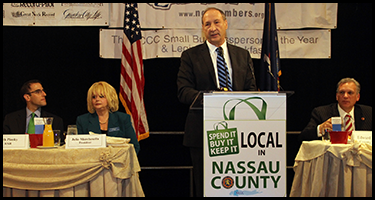 One of this year's Small Business Award goes to the Nassau Council of Chambers of Commerce.
Small business clearly is the foundation of the region's economy. Long Island is home to over 90,000 businesses grossing around $170 billion a year, with about 90 percent of these businesses employing 50 people or less. In order to address the overall needs of the individual Chambers of Commerce, both Nassau and Suffolk County have worked on a consortium of their respective Chambers, in order to communicate legislative and business agendas to various levels of government and other business groups via various types of media and advocacy efforts.
The Nassau Council of Chambers of Commerce (NCCC) is the local umbrella organization for 49 Chambers of Commerce across all of Nassau County. Current Chamber President Francesca Carlow has shown both the experience and passion to address issues facing over 6000 businesses throughout Nassau County. This is needed as Nassau County depends on the success of the small business community, as local businesses represent both the economic engine and the backbone of Nassau County's economy. Without the small businesses that are represented by the NCCC, local revenue would dry up as money is funneled out of the state towards corporate interests that do not benefit local residents.
As community leaders, chambers work industriously to keep their hard-earned dollars in the local economy. In addition to promoting the SHOP LOCAL campaign, the NCCC supports mixed-use and downtown revitalization, keeping elected officials involved and accountable, transportation issues, addressing the rising school and property tax burden, and keeping our families and the next generation here on Long Island. They also help with the legwork as part of the Long Island Lobby Coalition. The NCCC has strongly advocated for legislative and funding needs in Albany regarding these issues.
Most recently they have been tireless in their efforts to enact a tax on internet sales. This subject is so important as it would help to level the playing field and allow local mom and pop stores to more fairly compete with large, international sellers on a local scale. Without such legislation and the efforts of chamber organizations, these big companies will continue to enjoy the scales tipped in their favor.
Quarterly meetings and special events held by the NCCC feature guest speakers with topic matters that are germane to the groups, with elected officials, community and business leaders giving and receiving input towards Nassau's most pressing needs.
The Nassau Council of Chambers of Commerce have received a Smart Growth Award in 2006 for their local efforts to help small business but now with their partnership with the Suffolk Chambers of Commerce, Queens Chamber, and focused lobbying they have expanded their reach and deserve continued recognition.
Suffolk County Alliance of Chambers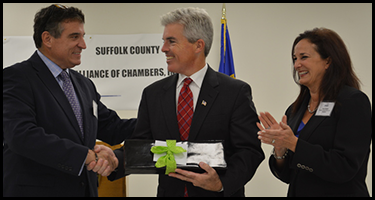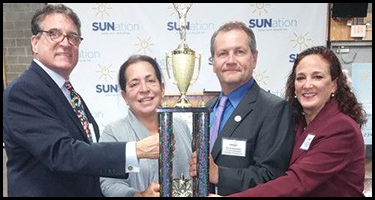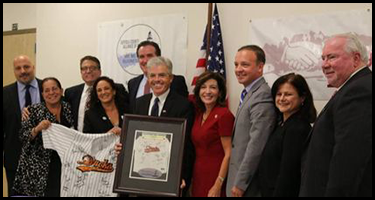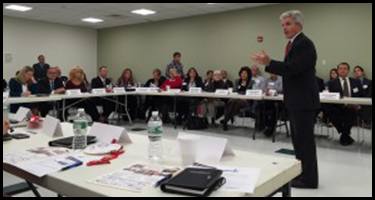 One of this year's Small Business Awards goes to the Suffolk County Alliance of Chambers.
Spring of 2015 brought a new perspective to how business is done in Suffolk County with the formation of the Suffolk County Alliance of Chambers of Commerce. The Suffolk County Alliance of Chambers, Inc. is a ground-up regional business organization comprised of local chambers of commerce and other business alliances. Their mission is to communicate legislative and business agendas to various levels of government and other business groups via various types of media.
Formed by local business leaders Bob Fonti and Gina Coletti, the group aims to become a champion for business interests in Suffolk County. The group did not look to supplant existing chambers of commerce but instead to enhance them by becoming a unifying voice for more regional priorities.
Since their inauguration, over 75 local chambers and business entities have signed on with the group. The Alliance has met numerous times and heard from local business leaders and elected officials on how to accomplish goals and provide profitability for the local community. They have heard from a variety of local and state officials who are eager to discuss the future of business in our region.
Meetings have featured Lt. Governor Kathy Hochul, State Senate Majority Leader John Flanagan, State Senator Tom Croci, Suffolk Comptroller John Kennedy, Suffolk County Executive Steve Bellone, Presiding Officer DuWayne Gregory, and Congressman Lee Zeldin. Meetings have included updates, surveys, and participation of chamber members along with joint marketing campaigns. The group continues to grow as more chambers and local economic stakeholders join up to try and help.
In 2016, the Alliance worked with the Long Island Business Council to help provide support for the Tax-Deferred Small Business Savings Accounts Act, a bill that would provide for tax-free accounts that could be withdrawn from during economic downturns in order to insulate businesses from adverse financial conditions. The bill has yet to become law, but the Alliance has been working to educate lawmakers on the importance that such a bill holds.
Additionally, they conducted a survey of local business, finding opposition to the mandated $15 per hour wage increase. The group also expressed support for public infrastructure investments to improve local sewers and increase capacity. Improvements to local downtowns in order to improve capacity would go a long way in increasing the number of customers that local businesses can service. They have been an important voice in multiple trips to Albany through the LI Lobby Coalition.
Moving forward, the Suffolk County Alliance of Chambers will continue to work as a voice for business in both local and state halls of power.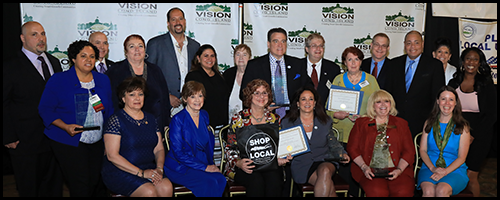 INFRASTRUCTURE
New York Rising
New York State Governor's Office of Storm Recovery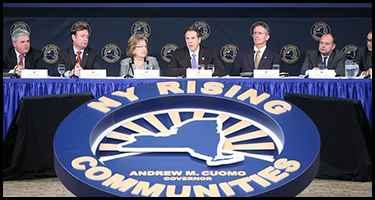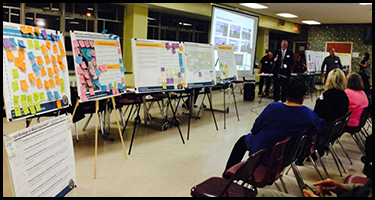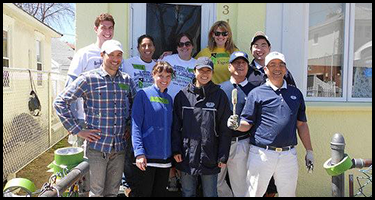 This year's award for Infrastructure goes to the New York Governor's Office of Storm Recovery Community Reconstruction.
In June 2013, following the occurrence of Hurricane Irene, Tropical Storm Lee and most severely Superstorm Sandy, Governor Andrew Cuomo set out to centralize recovery and rebuilding efforts in impacted areas of New York State.
Establishing the Office of Storm Recovery, the Governor aimed to address communities' most urgent needs, while also encouraging the identification of innovative and enduring solutions to strengthen the state's infrastructure and critical systems. Operating under the umbrella of New York Rising, the Governor's Office of Storm Recovery focused on aid to four main areas; Housing Recovery, Small Business, Community Reconstruction, and Infrastructure.
The NYRCR Program is currently implementing over 300 projects throughout New York State through partnerships with local governments, non-profit partners, and the Dormitory Authority of the State of New York, with 64 of these projects underway in Nassau and Suffolk.
These projects, which range from essential infrastructure investments to critical public services, help communities recover from the devastating damage of past storms. The projects are crucial to ensure residents and communities across Long Island are physically, economically, and socially more resilient in the future.
The NY Rising Community Reconstruction Program, within the Governor's Office of Storm Recovery, is a $700 million grassroots planning and implementation program that empowers local residents and community leaders to directly impact their communities' futures and create stronger, more resilient places to live and work. One hundred percent of the program is grant funded geared to increase resiliency.
It is an ongoing challenge for Long Island to get its fair share of funding from Federal and State sources for critical infrastructure projects but this program brings needed capital dollars and also had a meaningful public planning process.
On Long Island, 22 NYRCR Communities—13 in Nassau and 9 in Suffolk—have been established, comprising more than 40 disaster-affected localities. Throughout this process, nearly 250 public meetings were held to gain input and project recommendations. The program now in the implementation phase. It includes 90 projects with 16 local government subrecipients.
Flooding was the major issue discussed so more than 50 percent of the projects went to address this in a variety of ways. The program also included means to provide back up for first responders with equipment and technology to help them continue to function should another storm happen, increasing storm resiliency and response time for affected communities.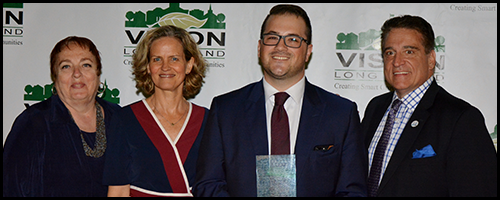 STRENGTHENING COMMUNITIES
The Shipyard
Tritec Development and the Village of Port Jefferson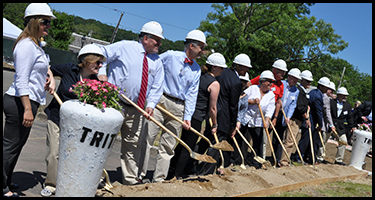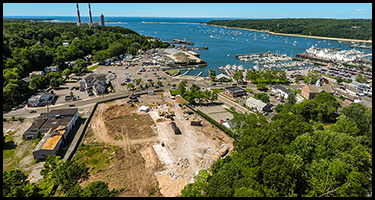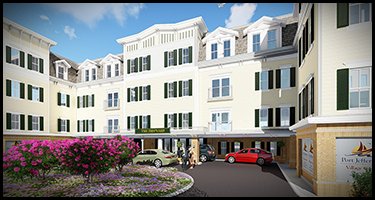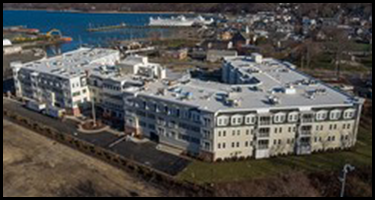 This year's Strengthening Communities awardees are Tritec Development & Village of Port Jefferson.
Recently celebrating its grand opening, the Shipyard at Port Jeff Harbor is a modern, maritime-inspired community with a mix of one- and two-bedroom waterfront apartment homes, located directly along the north shore of Suffolk County's Village of Port Jefferson. Developed by Tritec Real Estate, the $45 million 112-unit luxury development has filled up quickly, with 91 of the units already leased as of the ribbon cutting.
Tritec reached out to the village officials to gain their input on what would be a better use for the site and how to make it complementary to what was already in the village. With the village already undergoing revitalization efforts and seeing a reduction in the number of vacant storefronts, it was agreed that this site would make a great opportunity for housing.
Surrounded by a busy main street and a majority of single family homes, this project aided in providing some diversity to the existing housing stock. Located just across from the ferry, a short distance from the LIRR, 3 nearby hospitals, and Stony Brook University; this site was a great location for housing for young professionals. Since opening, The Shipyard has become home to many residents in the medical and education fields.
The Shipyard at Port Jeff Harbor consists of 40 one-bedroom and 72 two-bedroom rental units overlooking the popular Port Jefferson Harbor. The project not only boasts sweeping views of the shoreline but is also designed with a nod to the area's shipbuilding and boating culture. Close by are a variety of restaurants, parks, and recreation as well as downtown shops. Amenities include a plaza, a rooftop deck, a fitness facility, wine storage lockers, a pet spa, and more.
The development replaces an unused and dilapidated motel on a little over 3.5 acres. The innovative design also incorporates resilient measures that are important in shoreline communities- including windows and exterior walls that can withstand a Category 3 hurricane, emergency service access to three sides of the property, and a fully waterproofed and structurally designed parking area. The parking area includes 168 spaces beneath the structure and features passive flood gates installed at the entrances as a precaution against inundation.
The Shipyard complements aspects and action items of Port Jefferson Village's Comprehensive Plan, including having parking on site and the desire for downtown redevelopment. The project is tax positive and the residents moving in will provide an economic benefit to the Village's waterfront business district.
Bob & Jim Coughlan co-founded TRITEC Real Estate Company in 1986. Together they have developed millions of square feet of property while building TRITEC into a premier project delivery company. They guide development, construction, and management of mixed-use complexes, industrial parks, mid-rise office buildings, hotels, medical office buildings, R&D facilities, and industrial buildings.
Tritec has received numerous awards and is a previous Smart Growth Award winner.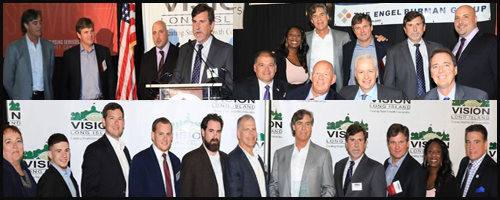 SENSE OF PLACE
The Village of Rockville Centre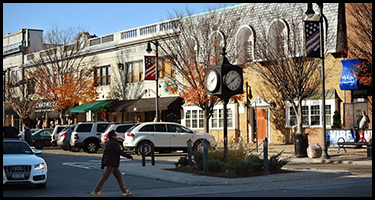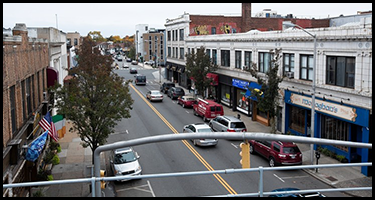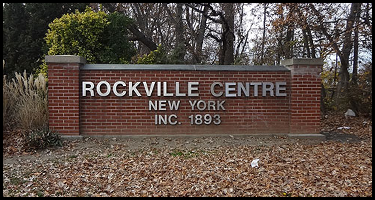 This year's award for Sense of Place is presented to the Village of Rockville Centre.
Downtown Rockville Centre is home to more than 100 restaurants and 500 businesses, with a variety of options for all demographics. The inclusion of traffic-calming measures, expanded parking, multiple housing options, and sidewalk improvements have aided efforts to rejuvenate the business district over the past several years.
The Rockville Centre LIRR station is easily walkable from the downtown and offers a 30-minute trip to Manhattan. The area around the train station is more of a transit hub, with four NICE bus routes within walking distance that can bring visitors to and from the downtown area from any direction. It was recognized that the village had a unique opportunity to retain millennials, empty nesters, and attract professionals to the area with their proximity to both NYC and Suffolk County, as well as their major employers such as Mercy Medical Center and Molloy College locally.
A few blocks away from the LIRR station, there is a transit-oriented development with the first phase having 349 one- and two-bedroom apartments and a second phase across the street also providing more much-needed rental housing in the village. Coming into office, the mayor understood the importance of affordable housing to reduce the "brain drain". Since then, there has been an increase of 500 units designed to attract young professionals to live, work, and play in Rockville Centre.
Several years ago, the downtown businesses were not thriving. Lighting and sidewalks were in terrible shape, and parking was an issue to businesses and visitors alike. Mayor Murray began to address these challenges from the beginning. One of his first official acts in office was to ease parking restrictions after 6 p.m. Five years later, the measure had helped push the occupancy rate of downtown businesses to 99% from 82%, with the nightlife attracting visitors from across Long Island.
The community was among the first in the nation to use Park and Save meters, with motorists receiving coupons for local stores with their parking receipt. Through grants and bonding measures, sidewalks along North Park Avenue, South Park Avenue, and Village Avenue were redone in order to improve walkability.

Rockville Centre was recognized as one of the best cities for seniors in New York State, boasting the best rating in the health care and social assistance categories. Some empty nesters have chosen to continue to stay in Rockville Centre, trading their high valued homes for smaller sized apartments and condos in proximity to the vibrant downtown. Ensuring that the downtowns are safe for this population in terms of walkability has led to a partnership with AARP to help identify trouble spots for pedestrians in the downtown.
Proven by its low vacancy rate, downtown Rockville Centre has what visitors and residents alike desire. The village has seven parks that have been substantially improved, with playing fields and playgrounds and six others, including a village green, for sitting or walking. They cover 140 acres. Ocean beaches are about 15 minutes away. Just west of the village, Hempstead Lake State Park offers sweeping fields, picnic areas, soccer fields, a lake and three ponds.
The village has also been recognized nationally as one of the best places to live for some of these reasons and more.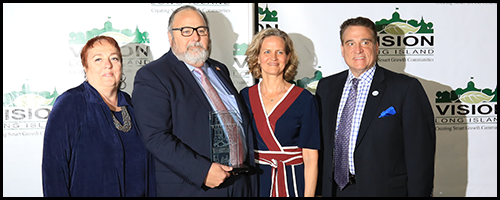 REGIONAL LEADERSHIP
John Kominicki (Posthumously)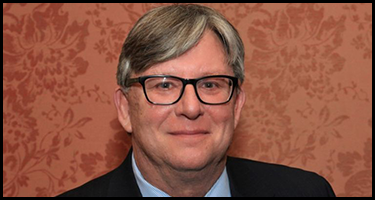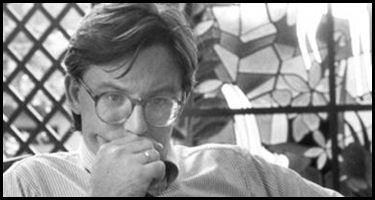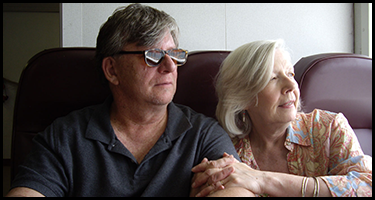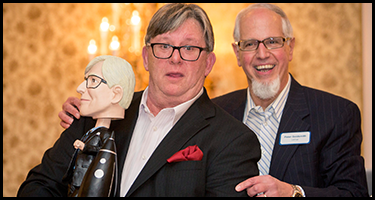 This year's Regional Leadership Award is presented to John Kominicki (Posthumously).
John Kominicki was a New Hampshire native and U.S. Army veteran. Mr. Komincki is known to most as the former editor and publisher of Long Island Business News. In 1995, he joined The Dolan Company (former parent company of LIBN) as publisher of the Journal Record in Oklahoma City and became head of the company's editorial board. He was a frequent contributor to LIBN on what he called the "business of life" and served as a co-host for television's TV10 Focus program.
As an award-winning former journalist, Mr. Kominicki had written for a number of publications including the New York Times, Dallas Morning News and Newsweek. He also spent 15 years as a Europe-based correspondent for European Stars & Stripes. Shortly after his time at LIBN, he founded Innovate Long Island, a website focused on the region's startups and tech industry. In July of 2017, Mr. Kominicki was the publisher of the Long Island Press, relaunching it as a monthly magazine.
In addition to being a founding and long-standing Vision Long Island Board member, Mr. Kominicki held a seat on the boards of the Long Island Association, ACIT, the Long Island Business Development Council, and LISTnet, among others. In 2014, Mr. Kominicki was inducted into the Press Club of Long Island's Journalism Hall of Fame.
Mr. Kominicki was considered a "big thinker". He constantly thought about the newspaper's place within the community of Long Island. Community and ways of bringing people together were very important to him. Before the popularity of smart growth, Mr. Komincki talked about these concepts and challenged people to implement them on Long Island. He was incredibly influential in the early days of the smart growth movement. He hosted panel discussions and conferences, ran op-eds in his publication and constantly sought ways to overcome barriers to housing and commercial growth in our business districts.
To many who worked with him, they remember him not only for his sense of humor but also his drive to make people better. People and organizations from all over reached out to him for his input and expertise. He became a person that others could connect with and find a way to move forward on the important issues facing Long Island.
Mr. Kominicki died Dec. 5 of 2017 after a brief battle with stomach cancer. He is survived by his wife of 33 years Marie, and daughter, his mother Alma, his sisters Stefanie Price, Michelle McLaughlin and Jennifer Danly, and brother, Russel Johnson. He was 62.
REGIONAL LEADERSHIP
Denise Carter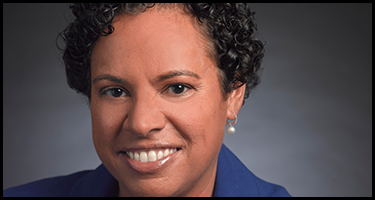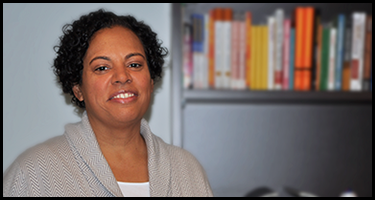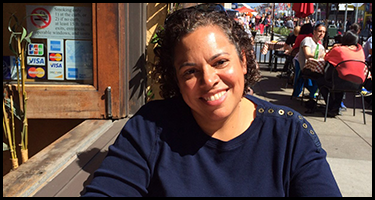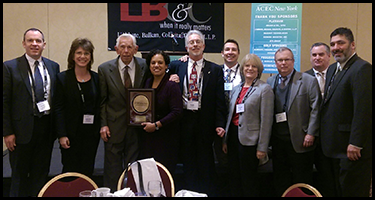 This year's recipient of the Regional Leadership Award is Denise Carter.
Denise Carter has over 30 years of design and construction experience. Since taking on the role of branch manager in 2000, she has nearly doubled Greenman-Pederson's (GPI) Headquarters' staff and revenue.
With over 50 years of expertise in transportation engineering, GPI has taken on projects for every level of government and throughout multiple states in the country. Her leadership in Complete Streets and transit-oriented development across Long Island has helped transform communities, by "translating" some of the innovative thoughts that the private sector can bring to the public sector, knowing that progress can be slow, but still valuing the progress as it moves ahead.
A notable and transformative project that Carter spearheaded was on Route 347. The 14-mile stretch project between the end of the Northern State Parkway in Hauppauge and Mount Sinai in Suffolk County that began as a capacity building project has turned into a major complete streets project, incorporating not only vehicular use but pedestrians, bicyclist, bus stops and shelters.
She has been a direct force of change in the way that transportation engineering is moving ahead projects related to Complete Streets, sustainability, Bus Rapid Transit, and safety of personal mobility. Carter believes in making the roadway environment more adaptive for those with mobility issues so that they too can enjoy what Long Island has to offer.
In a field that is predominantly male, Carter, who previously served as GPI's Director of Construction services in Long Island, has excelled. She has more than 17 years of experience in the management of transportation design and construction inspection projects, having responsibility for strategic business development and implementation, contract management, staff development, technical operations, financial performance, quality assurance and client relations.
As well as being a Vision Long Island Board Member, Carter is also active in many regional industry-related associations both locally and nationally, including the American Society of Civil Engineers, the National Society of Professional Engineers, the Construction Management Association of America, Women in Transportation's New York Chapter, and the Institute of Transportation Engineers. Additionally, she was recognized as ASCE Long Island's Engineer of the Year in 2015. Carter earned an MSCE degree in construction management from Polytechnic University and a BSCE from Tufts University.
Some of her other projects that have regional significance includes the Brooklyn Bridge, Manhattan Bridge, Williamsburg Bridge Rehabilitation Programs, Belt Parkway 7 Bridges Program Management (NYCDOT), George Washington Bridge Rehabilitation Program, Bayonne Bridge Navigational Clearance Project (PANYNJ), Verrazano Narrows Bridge Deck Replacement , Bronx Whitestone Bridge Rehabilitation Program (MTA B&T), Queens Midtown Tunnel Rehabilitation (MTA B&T), construction inspection for the Cross Island Parkway/Long Island Expressway Interchange, as well as design of Long Island Expressway HOV lanes, to name a few.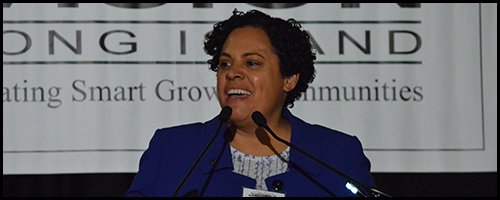 Public Officials In Attendance:
Federal and NYS Officials included NYS Assemblywoman Christine Pelligrino, NYS Senator Phil Boyle, NYS Senator Elaine Phillips, former NYS Assemblywoman Michelle Schimel, Suffolk Regional Representative for Governor Cuomo Brian Sapp, Long Island Regional Director to U.S. Senator Charles E. Schumer Garrett Armwood, and Government and Community Affairs Director for the MTA / LIRR Vanessa Lockel
Nassau and Suffolk County Officials included Nassau County Executive Laura Curran, Nassau County Comptroller Jack Schnirman, Nassau County Presiding Officer Rich Nicolello, Nassau County Legislator Ellen Birnbaum, Nassau County Legislator Debra Mule, Nassau County Legislator Steven Rhoads, Nassau County Legislator Laura Schaeffer, Sufffolk County Executive Steve Bellone, Suffolk County Legislator William Spencer, Suffolk County Legislator Rob Calarco, Suffolk County Legislator Steve Flotteron, and former Suffolk County Executive Steve Levy
Long Island Town Officials included Town of Babylon Deputy Supervisor Tony Martinez, former Town of Brookhaven Councilwoman Connie Kepert, Town of Hempstead Councilwoman Erin King-Sweeney, Town of Hempstead Councilman Ed Ambrosino, former Town of Huntington Supervisor Frank Petrone, Town of Islip Supervisor Angie Carpenter, Town of North Hempstead Councilwoman Anna Kaplan, Town of North Hempstead Councilman Peter Zuckerman, Town of Oyster Bay Supervisor Joseph Saladino, Town of Oyster Bay Councilman Lou Imbroto, Town of Riverhead Supervisor Laura Jens-Smith, Town of Smithtown Supervisor Ed Wehrheim, and Town of Smithtown Councilwoman Lisa Inzerillo
Long Island Village Officials included Village of Amityville Mayor Dennis Siry, Village of Farmingdale Mayor Ralph Eckstrand, Village of Freeport Deputy Mayor Jorge Martinez, former Village of Great Neck Mayor Ralph Kreitzman, Village of Great Neck Plaza Mayor Jean Celender, Village of Lindenhurst Trustee RJ Renna, Village of Lynbrook Deputy Mayor Hilary Becker, Village of Northport Mayor Damon McMullen, Village of Patchogue Mayor Paul Pontieri, Village of Plandome Manor Mayor Barbara Donno, Village of Port Jefferson Mayor Margot Garant, Village of Rockville Centre Mayor Francis X. Murray, and Village of Westbury Trustee William Wise
Media Links:
Special thanks to our videographers, Video Masters. Watch all of the honoree videos on our
You can read Long Island Business News' coverage of the Awards
Check out the Herald's coverage of our event
You can also read Vision Long Island Director Eric Alexanders latest op-ed at .
Special Thanks To Our Filmmaker and Photographers:
Here Are Some Of The Photos From
The 2018 Long Island Smart Growth Awards: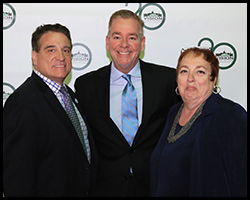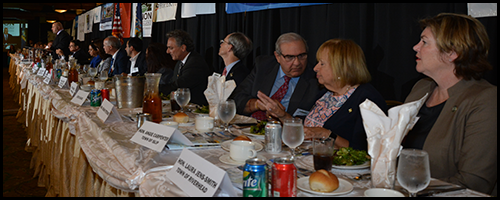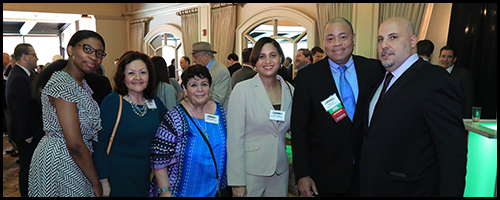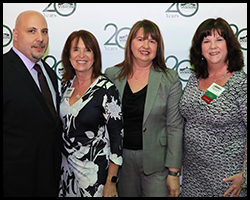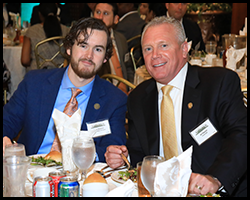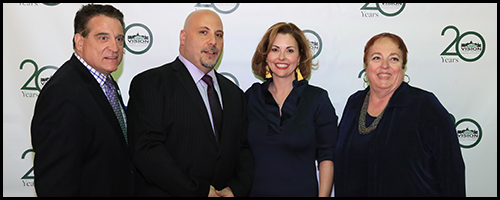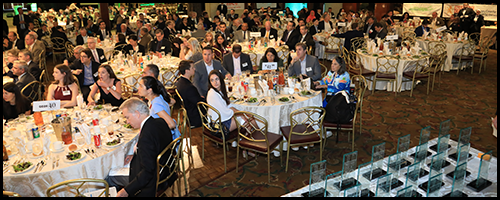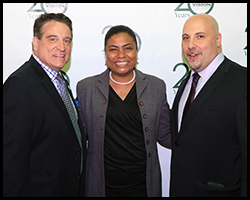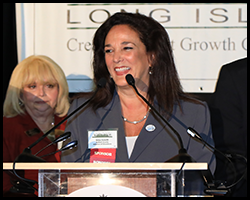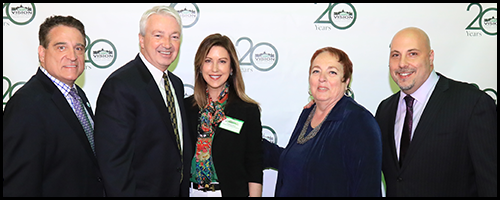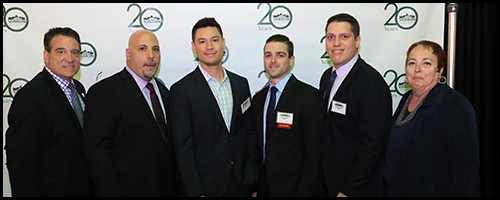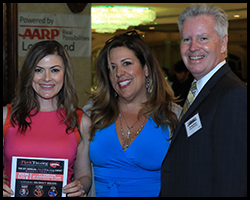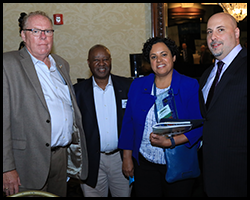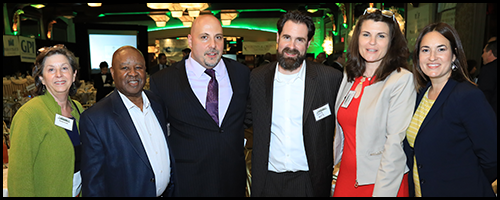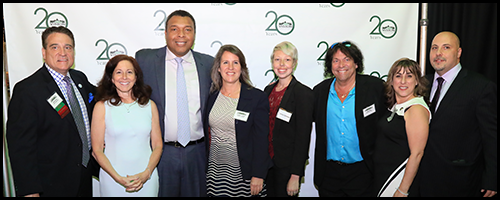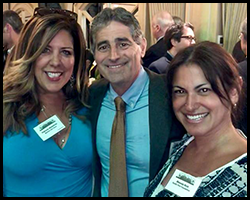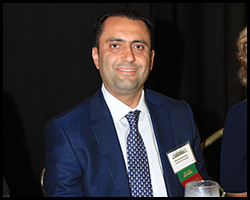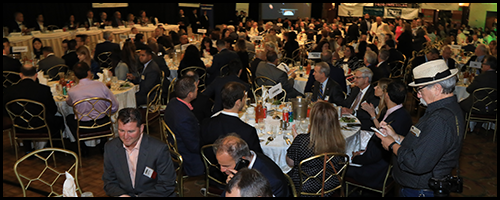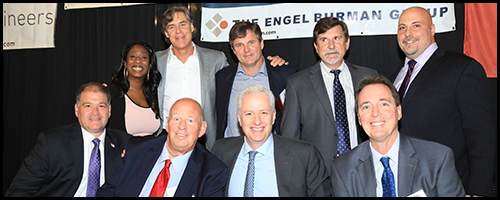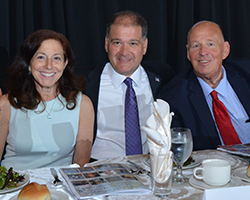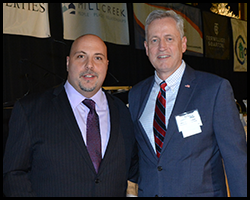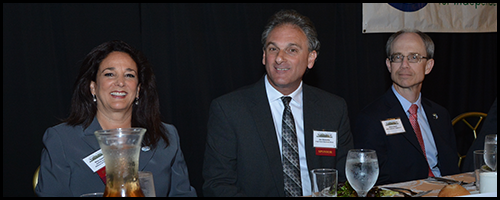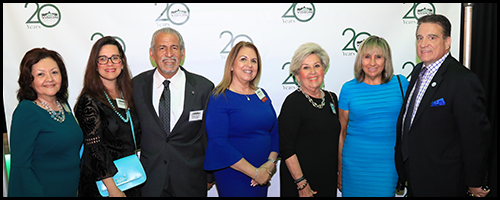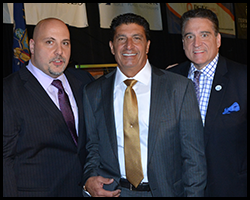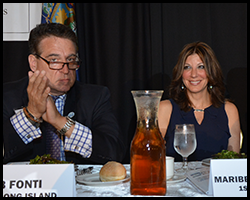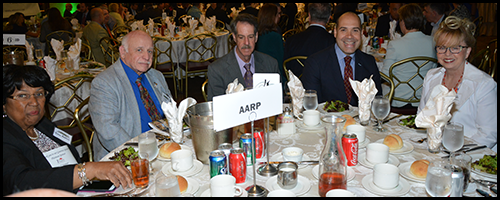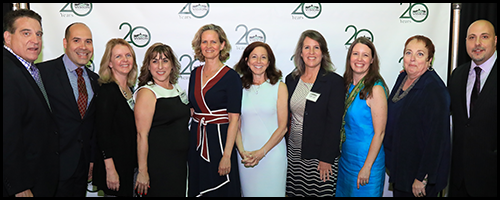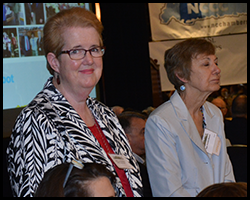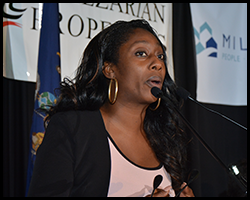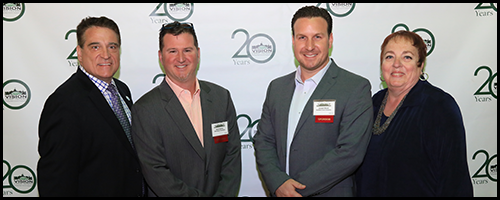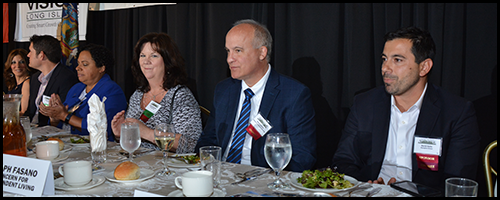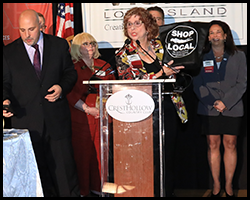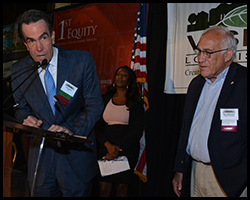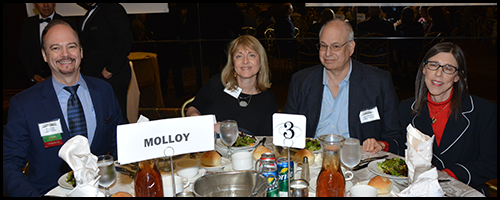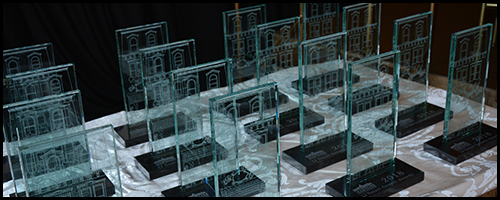 Save the Date for the 17th Annual Long Island
Smart Growth Summit on Friday, November 30th!
Register today! Sponsorships are available!
[ ] Visionary ($20,000) [ ] Platinum ($15,000) [ ] Gold ($10,000) [ ] Silver ($5,000) [ ] Bronze ($3,000) [ ] ___ seats ($150/person)
Method of Payment: [ ] Check enclosed [ ] Check sent (faxed replies only) [ ] Pay at the door [ ] Credit Card

Attendee Name(s): ____________________________________________________________________________________________
To RSVP or for more information please contact 631-261-0242, info@visionlongisland.org or fax 631-754-4452.
You can download a printable copy of the flyer here.
In Closing...
We are pleased to report the 17th Annual Smart Growth Awards was a special event for all of us working to maintain and create great places on Long Island. The energy in the room was electric with such a large number of attendees. We would like to thank all of the communities, businesses, public officials and sponsors who made the event a success but more importantly thanks for all you do each day to advance Smart Growth on Long Island.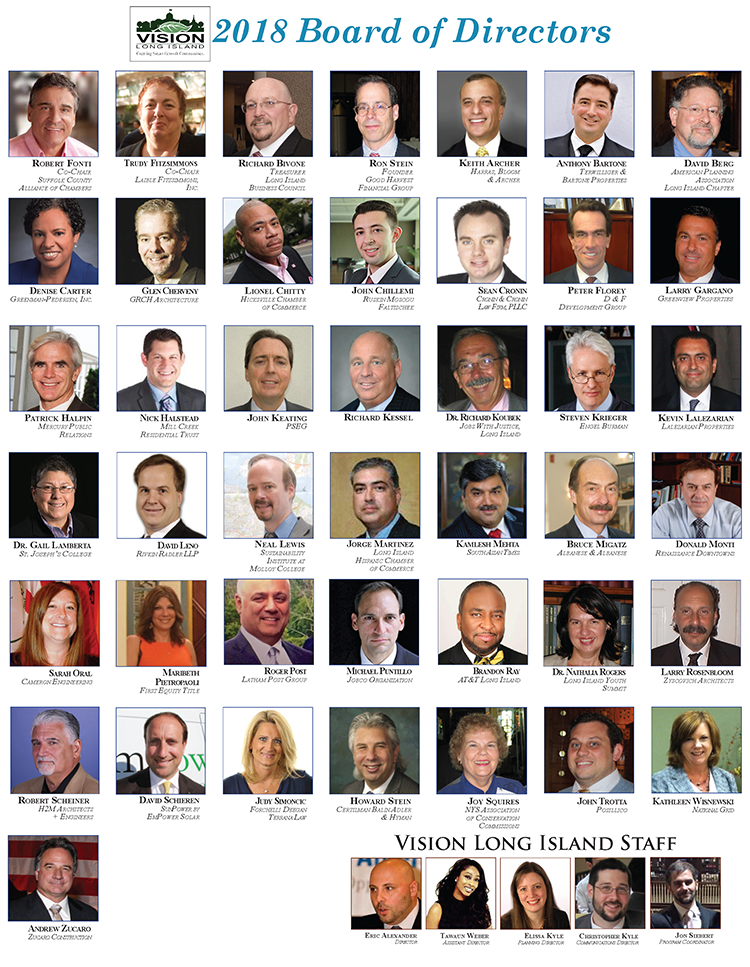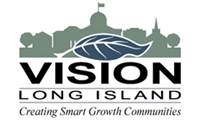 Vision Long Island
24 Woodbine Ave., Suite Two
Northport, NY 11768
Phone: 631-261-0242. Fax: 631-754-4452.
Email: info@visionlongisland.org
Website: www.visionlongisland.org
Home | Contact Us | Newsletter Archive | Donate | About Us