2010 Smart Growth Awards
The 2010 Smart Growth Awards will take place on Friday, June 18th, 2010 from 11:30-2:00 at the Crest Hollow Country Club.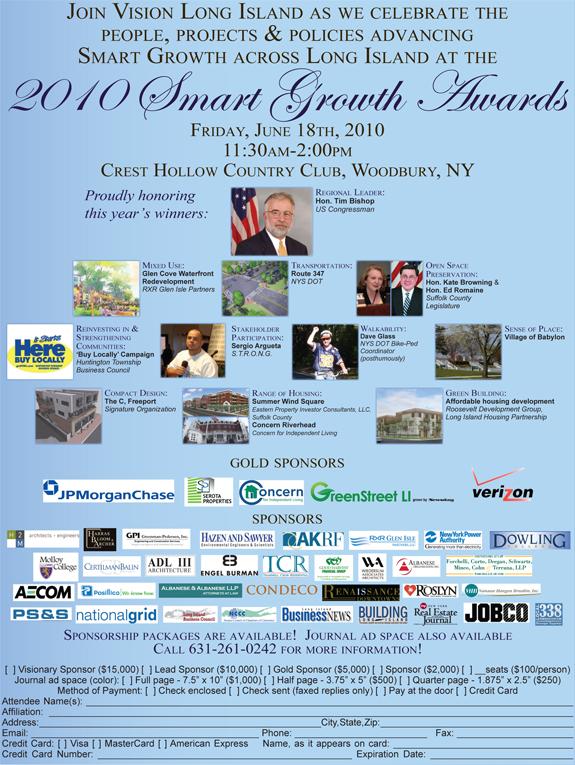 The 9th annual Smart Growth Awards will honor individuals and organizations taking leadership in advancing Smart Growth projects, policies, regulations and initiatives.
This year's distinguished honorees include:
Regional Leadership:

Hon. Tim Bishop
US House of Representatives

Creates a mix of uses:

Provide a variety of transportation choices:

Glen Cove Waterfront redevelopment
RXR Glen Isle Partners

Rt. 347
NYS DOT

Preserve open space, farmland, natural beauty, historic & critical environmental areas:

Reinvesting in & Strengthening Communities:

Hon. Kate Browning
& Hon. Ed Romaine,
Suffolk County Legislature

'Buy Locally' Campaign
Huntington Township Business Council

Encourage citizen and stakeholder participation in development decisions:

Create walkable neighborhoods:

Sergio Argueta
S.T.R.O.N.G.

Dave Glass
NYS DOT Bike-Ped coordinator
(posthumously)

Foster distinctive, attractive communities with a sense of place:

Takes advantage of compact building design:

Village of Babylon

The C, Freeport
Signature Organization

Housing opportunities & choices for a range of household types, family sizes & incomes

Fostering clean energy & green building development




Summer Wind Square
Eastern Property Investor
Consultants, LLC,
Suffolk County
Concern Riverhead
Concern for Independent Living

Affordable housing development
Roosevelt Development Group, Long Island Housing Partnership

The 9th annual Smart Growth Awards will be held on Friday, June 18th from 11:30am-2pm at the Crest Hollow Country Club.
Sponsors announced!
Gold Sponsors

Sponsors

JOURNAL AD SPACE AVAILABLE!
RESERVE YOURS TODAY
Full page color: $1000
Half-page: $500
Quarter page: $250
Registration forms are available here.
Check out our previous Awards coverage for more information: